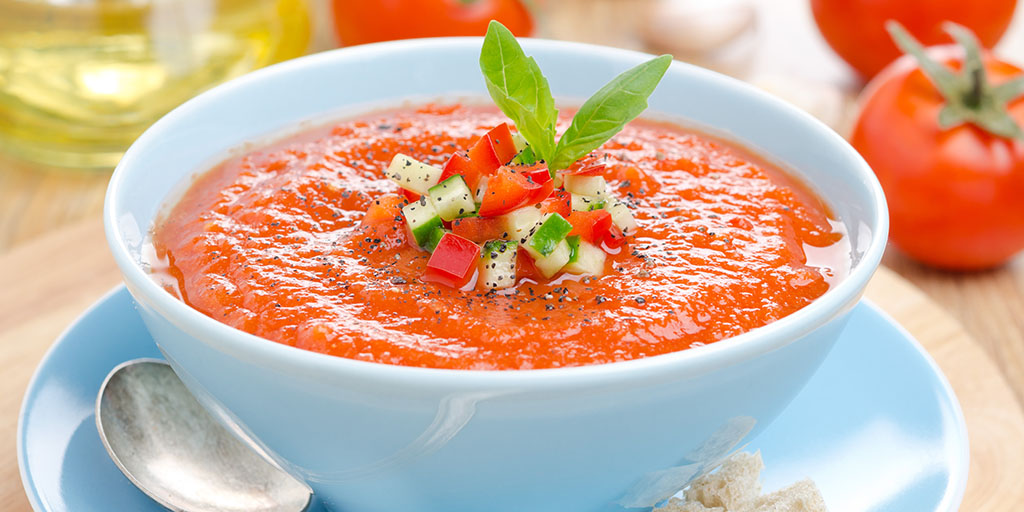 Ingredients
3 pounds ripe tomatoes, cored
1 medium green bell pepper, halved, and seeded
1 small cucumber, peeled, halved, and seeded
1 small red onion, peeled and halved
1 serrano chile, stemmed and halved lengthwise
3 garlic cloves, peeled and quartered
1 slice white sandwich bread, crust removed, torn into pieces
½ cup extra virgin olive oil, plus extra for serving
2 tablespoons sherry vinegar, plus extra for serving
2 tablespoons minced parsley, chives, or basil leaves
cracked black pepper
kosher salt
Directions
Chop 2 pounds of tomatoes, half of bell pepper, half of cucumber, and half of onion. Place into a large bowl. Add chile, garlic, and 1½ teaspoons salt. Set aside.
Dice remaining tomatoes, cucumber, and pepper. Place vegetables in medium bowl. Mince remaining onion and add to the bowl of vegetables. Toss with ½ teaspoon salt. Place into a fine-mesh strainer set over a medium bowl. Set aside for 1 hour.
Place drained diced vegetables in a medium bowl and set aside. Add bread to exuded vegetable liquid and soak for about 1 minute until the liquid is absorbed and then add to the roughly chopped vegetables. Toss thoroughly to combine.
Place one-half of vegetable-bread mixture to blender and process for 30 seconds. With blender running, slowly drizzle in ¼ cup oil. Blend for about 2 minutes until completely smooth. Strain soup through the fine-mesh strainer into large bowl using a rubber spatula to press soup through strainer. Repeat with remaining vegetable-bread mixture and add ¼ cup olive oil.
Stir in vinegar, minced herbs, and half of diced vegetables into soup and season to taste with salt and black pepper. Cover and refrigerate for at least 2 hours or overnight to chill completely and develop flavors. Serve with the remaining diced vegetables, olive oil, sherry vinegar, and black pepper.