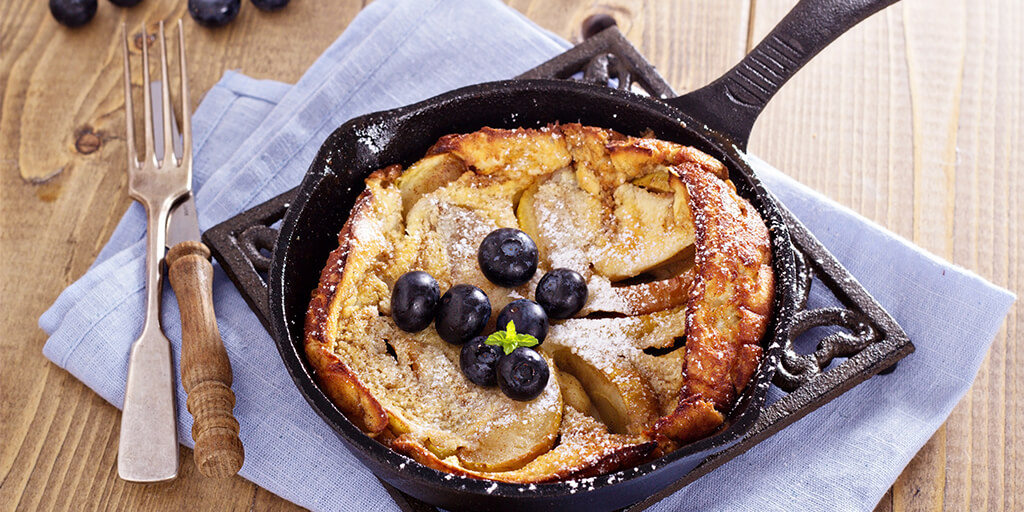 Ingredients
Apple Syrup
2 tablespoons butter, unsalted
1 tablespoon dark brown sugar
1 teaspoon vanilla extract
½ teaspoon cinnamon, ground
4 cups apple cider
Dutch Baby
3 large eggs, room temperature
¾ cup all-purpose flour
¾ cup whole milk, room temperature
1 teaspoon vanilla extract
1 teaspoon ground cinnamon, divided
¼ teaspoon kosher salt
1 large Fuji apple, peeled, sliced ¼" thick
4 tablespoons unsalted butter, divided
1 tablespoon dark brown sugar
2 tablespoons powdered sugar
Directions
Apple Syrup
Whisk together the butter, brown sugar, vanilla, cinnamon and apple cider in a heavy saucepan.
Bring to a boil over medium-high heat. Reduce heat and boil gently, whisking occasionally, until thick and syrupy. This should take 30–45 minutes.Note: Syrup can be made one week ahead. Let it cool; cover and chill. When needed, warm over low heat before using.
Dutch Baby
Preheat oven to 425°F.
Whisk together eggs, milk, flour, vanilla, salt, and ½ tsp. cinnamon in a medium bowl until smooth.
Melt 2 Tbsp. butter in a 10" skillet, preferably cast iron, over medium heat. Add apple and sprinkle with brown sugar and remaining ½ tsp. cinnamon. Cook, tossing often, until apple is coated and softened, about 4 minutes. Transfer to a plate.
Wipe out skillet and heat in oven until very hot, 8–10 minutes. Carefully add remaining 2 Tbsp. butter to skillet, tilting to coat bottom and sides. Add apple to center of skillet; pour batter over.
Bake until pancake is puffed and golden brown around the edges and center is set but still custardy, 12–15 minutes.
Serve drizzled with apple syrup.  Sprinkle with powdered sugar.