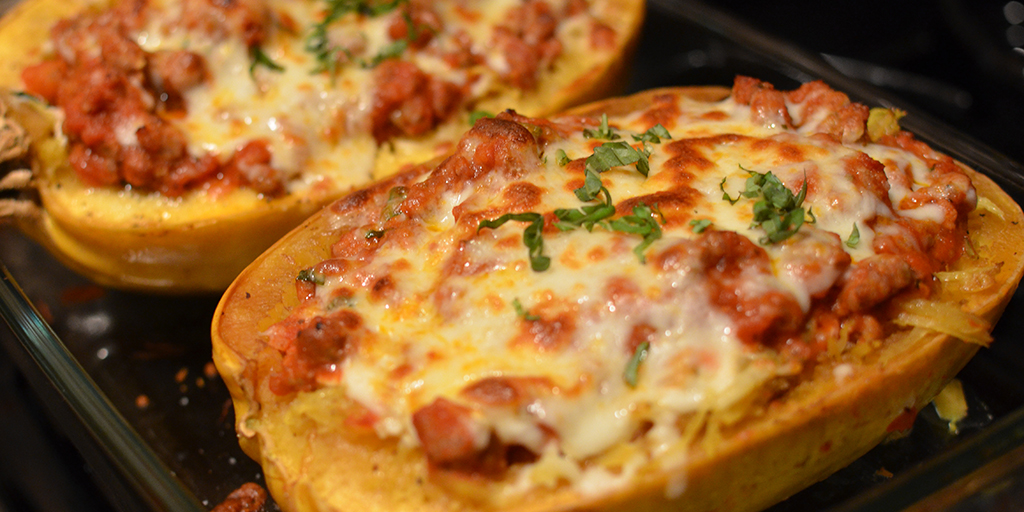 Ingredients
1 large spaghetti squash
1 tablespoon olive oil
½ salt salt
½ pepper
1 tablespoon Italian seasoning
1½ cups marinara sauce, divided
2 large chicken breasts, cooked and diced in cubes, divided
½ cup mozzarella cheese, divided
½ cup breadcrumbs, divided
½ Parmesan cheese, divided
¼ cup fresh basil, chiffonade
Directions
Preheat oven to 450°F.  Line a baking pan with parchment paper
Cut the spaghetti squash in half, lengthwise.  Brush cut side with olive oil.  Place flat side down on baking pan.  Bake for 1 hour, until the strands easily fall apart from the shell.
Remove from the oven and discard the seeds.  Using a fork and a heat proof mitt, stir the strands to separate them in the shell.
Add a  salt and pepper.  Add half the chicken to each squash half.  Then top half the marinara sauce per squash half.  Sprinkle the mozzarella cheese on each half.  Then sprinkle the breadcrumbs on each half.  Now, add the Parmesan cheese on each half.
Place the squash back in the oven, and bake until the marinara sauce is fully heated and the cheese is melted, about 12 minutes.
Remove from oven, sprinkle basil on each half and serve.