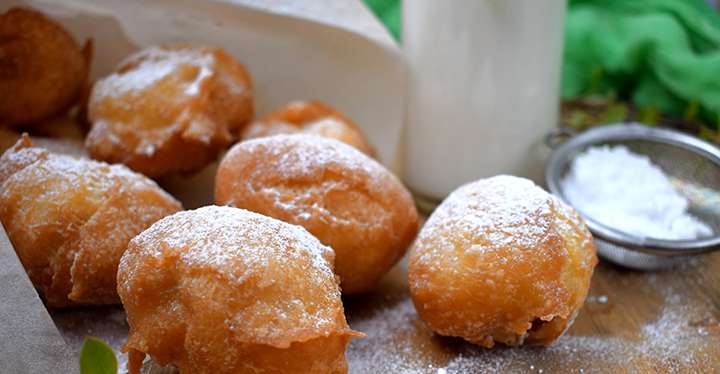 Banana fritters are fried dessert dusted with powdered sugar.  They are made by incorporating bananas in a sweet batter and then deep fried.  Easy to make, easy to love!
Ingredients
1 tablespoon unsalted butter, melted
2 bananas, ripe
1 teaspoon baking powder
2 tablespoons milk
1 cup all-purpose flour
3 tablespoons white sugar
1 cup confectioners' sugar for dusting
¼ teaspoon ground cinnamon
A pinch of ground nutmeg
2 eggs, large
1 quart oil
½ teaspoon salt
Directions
Mash the ripe bananas in a large bowl. Mix in eggs, milk and butte for couple of minutes, until smooth. Combine flour together with baking powder, sugar, salt, nutmeg & cinnamon in a separate bowl. Stir the dry ingredients into the banana mixture.
Heat oil in a heavy bottomed pan or deep fryer to 375 F.  Using spoonfuls; carefully drop the batter into hot oil & cook for 5 to 6 minutes, until browned, turning once. Place them on paper towels.
Plate the banana fritters and then dust with the confectioners' sugar.