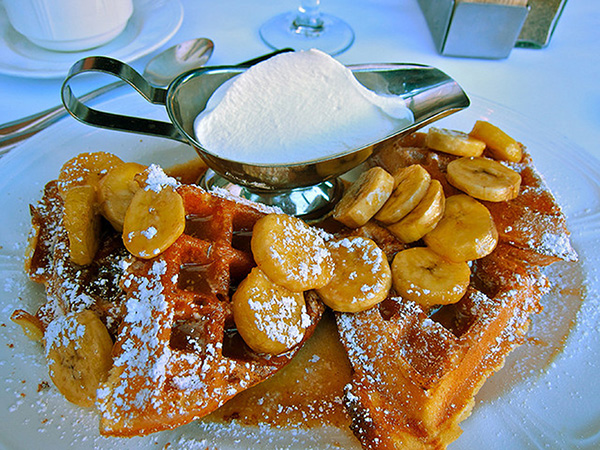 Pure decadence on a plate is what I like to call this little banana invention. Your vanilla-scented waffles are the stage for a sticky sweet combination of bananas, rum, and brown sugar heaven. (The alcohol burns off so it can be considered kid friendly.) Besides the taste tango, you can feel good about providing your family with a healthy dose of potassium for the morning start. To take these waffles to a whole new level, sprinkle some toasted pecans on top. Supremely delicious!
Ingredients
For waffles:
2 eggs
2 cups all purpose flour
1 ¾ cups milk
½ cup vegetable oil
4 teaspoons baking powder
2 tablespoons sugar
¼ teaspoon salt
1 teaspoon vanilla
Toasted pecans (optional)
For topping:
5 ripe bananas, sliced into 1/2" slices
½ stick butter
½ cup brown sugar
¼ cup maple syrup
¼ cup dark rum
Directions
For waffles:
Preheat waffle iron.
Beat eggs in a large bowl until fluffy. Add flour, milk, oil, sugar, baking powder, salt and vanilla. Beat until just incorporated.
Cook waffles in waffle iron.
For the bananas:
Melt butter in skillet on medium-high heat. Add brown sugar and maple syrup. Continue to cook until the brown sugar has dissolved.
Add bananas and cook 2-5 minutes just until soft. Don't overcook.
Carefully add the dark rum and cook 1 minute more.
Place one waffle on a plate and top with bananas and sugar mixture. Sprinkle with toasted pecans if desired. Serve warm.