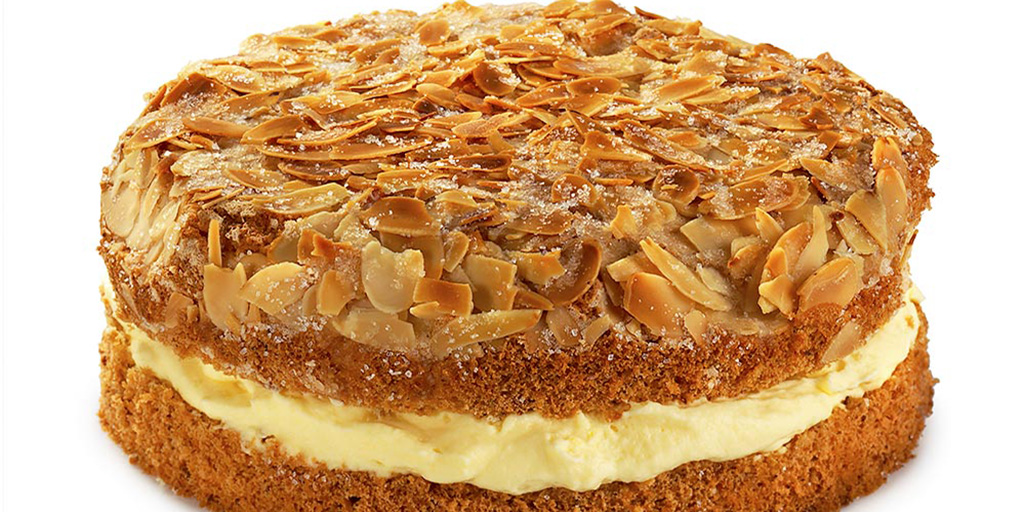 Legend of course results in conflicting stories of how this Bee Sting Cake got its name. One has German bakers from the 15th century who lobbed beehives at raiders from a neighboring village, successfully repelling them, and celebrated later by baking a version of this cake named after their efforts. The cake may also have earned its name from its honey topping: according to one legend, a bee was attracted to it, and the baker who invented the cake was stung.
Ingredients
CAKE:
1 cup + 6 tablespoons all-purpose flour
1½ teaspoons baking powder
½ teaspoon salt
½ cup coconut oil, melted
¾ cup sugar
2 tablespoons orange juice
½ teaspoon vanilla extract
¾ teaspoon almond extract
2 large eggs, room temperature
CUSTARD:
1¼ cups milk (cow, soy, almond, or rice milk)
1 large egg
5 tablespoons sugar
¼ cup cornstarch
pinch of salt
2 teaspoons vanilla extract
TOPPING:
5 tablespoons coconut oil1, melted
5 tablespoons sugar
3¾ teaspoons honey
3¾ teaspoons milk
pinch of salt
¾ cup + 3 tablespoons sliced almonds
Directions
Preheat the oven to 350 °F.  Place a round piece of parchment paper over an 8″ round cake pan. Line both the top and sides.
Prepare the almond topping. Combine melted coconut oil,  honey, sugar, milk and salt. Once combined, add in the sliced almonds. Set aside.
In a medium bowl, stir together the flour, baking powder, and salt. Set aside.
In a large mixing bowl, stir together the coconut oil,  orange juice, sugar,  almond extract, vanilla and eggs. Add the dry mixture to the wet mixture and stir just until combined.
Pour into the prepared pan, top with the almond honey mixture.  Bake for 30 minutes or until a toothpick inserted in the middle comes out clean.
Let the cake cool for 5 minutes in the pan and then invert onto a wire rack to cool completely.
In a medium saucepan, whisk together all custard ingredients, except for the vanilla. Place over medium-low heat and cook, stirring constantly, until thickened – about 10 minutes.  It will go from thin and watery to thick in a matter of a few seconds. Do not let the custard!  Remove from heat and stir in the vanilla. Set aside to cool while the cake continues to cool. There may be some lumps, but you don't notice them in the finished cake.  If you wish to remove the lumps, strain through a metal sieve.
Once the cake has cooled, slice it in half horizontally using a sharp serrated knife. Put the bottom half on the serving plate and evenly top with the custard. Place the sliced cake piece on top of the custard. Serve immediately. Note:  The cake will become much firmer once refrigerated so it is best to assemble right before serving.  Leaving it at room temperature for an hour is okay.