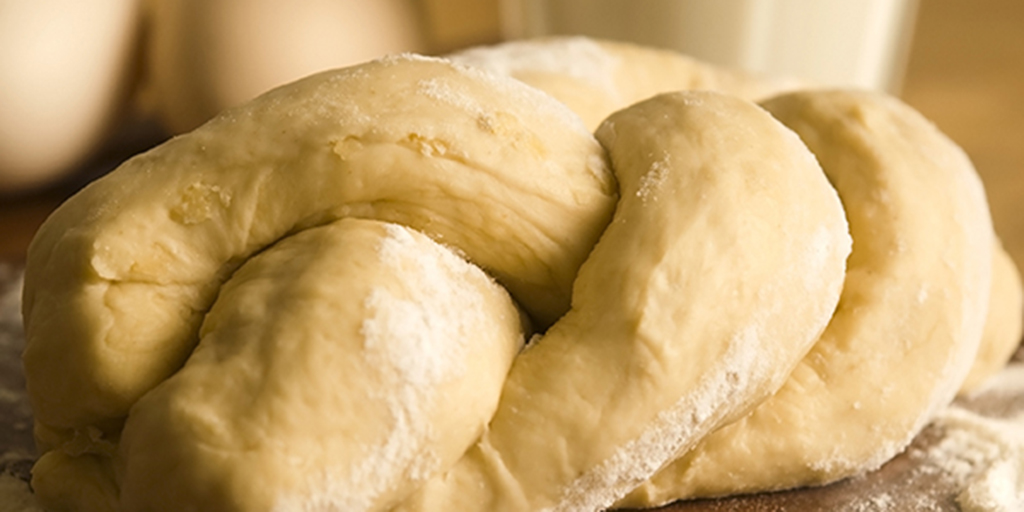 This is a modernized version of my Grandmother's Challah recipe. It makes several very moist and rich loaves that are best pulled apart and not sliced – in classic Jewish tradition. You can also use this recipe to make bubka, which is a sweet dessert/pastry dish
Ingredients
2 cups water
Small pinch of saffron
3 packages yeast
1 ½ cups sugar (or more to taste)
8 cups bread flour
2 sticks butter (left at room temperature for 30 minutes)
1 ½ teaspoons salt
4 eggs beaten
1 egg, reserved for glaze
Sesame or poppy seeds (optional)
Directions
Add saffron to ¼ cup of hot water and let rest for 30 minutes.
Combine saffron water, the rest of the water (lukewarm, about 100°F), and the yeast.
Add 3 cups flour and 1 cup sugar to the yeast mixture. Stir to combine and let rise 30 minutes in a warm place (75-80°F), draft free location.
In the meantime, using another bowl, combine the remaining flour, sugar and the salt. Cut butter into flour mixture. Cut down with fork until the mixture resembles course meal.
After 30 minutes, stir in the 4 beaten eggs with the yeast mixture. Add the flour-butter mixture to the yeast mixture and work it in well. If the mixture is too sticky, you may add up to 2 more cups flours.
Knead dough on a well-floured board until smooth and elastic – about 10-12 minutes.
Put dough in an oiled bowl and cover with a slightly damp towel. Place in a warm, draft-free place to let rise. In about 2-3 hours. Punch dough down ever 30-60 minutes. When ready, knead for a couple of minutes.
At this point, Jewish tradition is to pull off a small, egg-sized piece. This piece is discarded or baked (but not eaten).
Divide dough into equal parts. It will make 1 very large loaf, 2 family-sized loaves, or 4 smallish loaves.
Braid the loaves on parchment lined baking sheets.
Let rise for 30 minutes.
Preheat oven to 350°F.
When done rising, brush with reserved beaten egg. If desired, sprinkle with sesame or poppy seeds.
If making one huge challah, bake 50 minutes. If making two loaves, bake 45 minutes. If making four loaves, bake about 30 minutes.