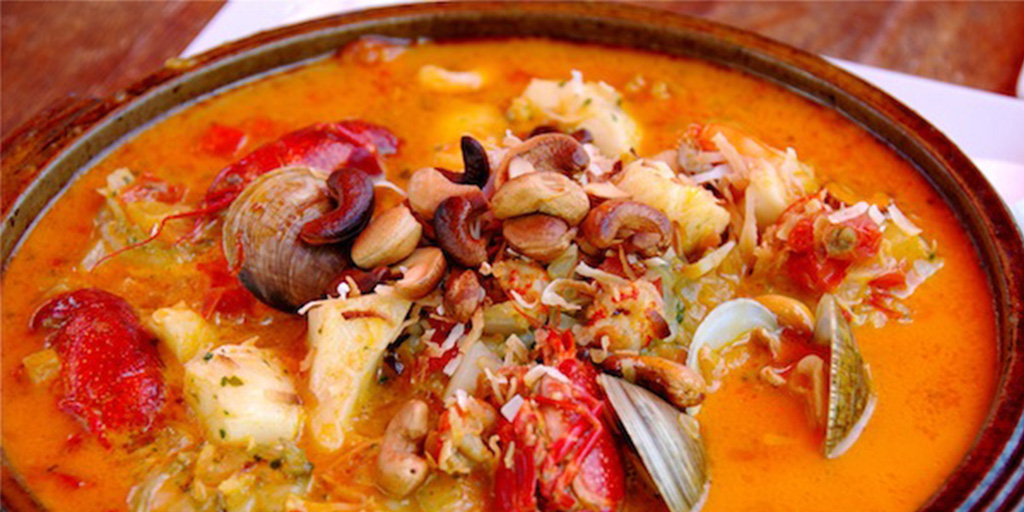 Ingredients
3 clams
3 mussels
3 shrimp
¼ cup fresh cod or sea bass
¼ cup squid
1 whole crayfish
1 crayfish tail
¼ cup chopped garlic
2 tablespoons white onion diced
2 tablespoons chopped cilantro
2 tablespoons diced red tomato
¼ cup okra sliced
½ cup coconut milk
¼ cup fish or shellfish stock
2 tablespoons Brazilian Dende Oil
1 tablespoon lime juice
1 cup precooked jasmine rice, kept warm
1 cup toasted cashews, chopped
⅓ cup toasted coconut
Kosher salt and pepper to taste
Directions
Preheat the oven to 350°F.
Lay the cashews in a single layer on a baking sheet. Roast until they are just golden brown, 5-10 minutes. Remove from the oven to cool and set aside.
In a medium sized sauté pan heat the oil until smoking. Add the clams, mussels, shrimp, onions, fish , crayfish tail, whole crayfish, tomato, okra and garlic. Cook over high heat for 1 minute or until mussels and clams start to open up. Reduce the heat and cover with a lid until all the mussels and clams have opened.
Deglaze the pan with the fish stock. Add the coconut milk and cilantro. Cook for 2-3 minutes. Add the squid and lime juice and check for seasoning. Adjust with salt and pepper as needed.
Pour into a pretty clay dish, garnish with toasted cashews and coconut.
Serve over the rice.