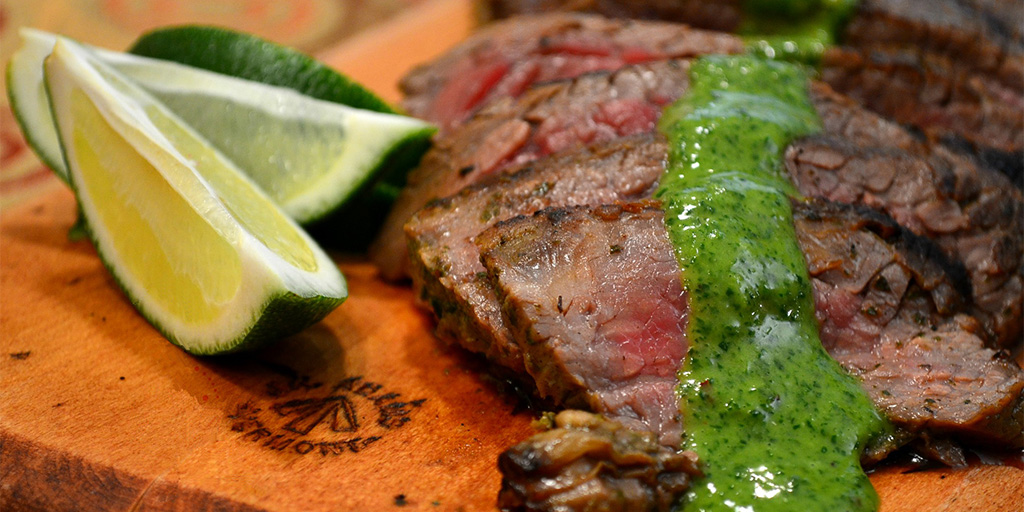 Ingredients
1 cup flat leaf parsley
1/3rd cup white vinegar
1 teaspoon salt
1 cup cilantro leaves
1 cup virgin olive oil
½ teaspoon black pepper
6 cloves garlic, peeled
½ cup mint leaves
½ teaspoon hot pepper flakes
1/3rd cup water
6-inch piece tenderloin, middle cut
2 cups oak chips, soaked for 60 minutes and drained
Directions
To make the chimichurri, add the herbs with the garlic to the blender and pulse until fine.
Now add the remainder of the ingredients and pulse into a sauce.
Once ready correct the seasoning.
Add a ¼ of the sauce to a baking tray, making sure the beef will fit inside.
Slice the beef into 4 pieces and then bat out to around ¼ inch thick, in between cling wrap.
Place the beef in the tray, then add another ¼ of the sauce over the top.
Leave on the side for 30-45 minutes.
Now heat the grill to high placing the chips on the grill, if you are cooking on gas you will need a smoke box to put the chips in and heat until they smoke.
Tin foil can be used for this shaping into a box.
Once hot add the beef to the grate and cook for 2 minutes on either side.
When cooking make a criss cross design.
Place on the platters with the remainder of the sauce.