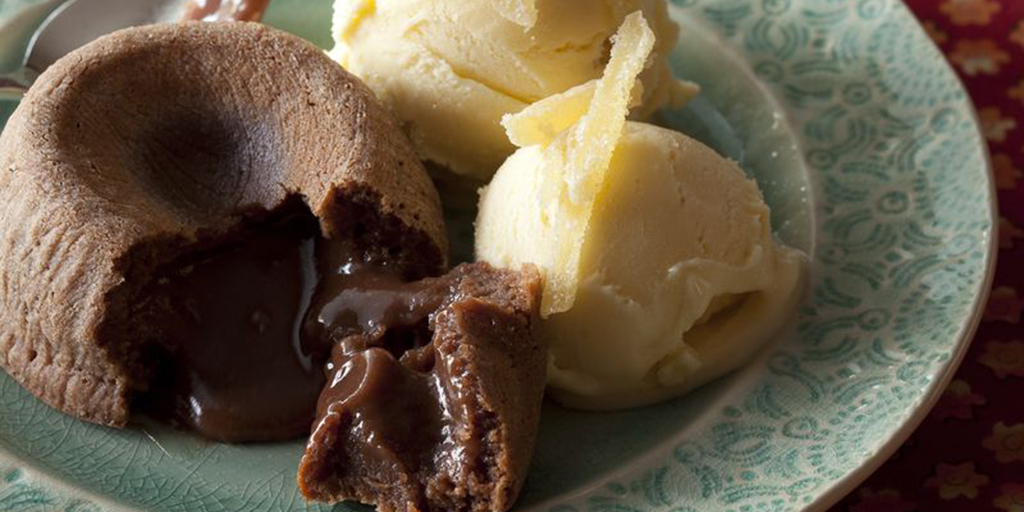 Ingredients
For the Brigadeiro
1 14-ounce can sweetened condensed milk
1 tablespoon unsweetened cocoa powder
2 ounces 72% dark chocolate, chopped
For the Cake
½ cup butter, unsalted
2 large eggs
2 egg yolks
⅛ teaspoon salt
1 tablespoon sugar
1 teaspoon vanilla extract
¼ cup all-purpose flour, plus more for molds
Directions
Preheat the oven to 350˚F.
Prepare foil cups by spraying a light mist of cooking spray. Dust with flour.
In a heavy saucepan over medium heat, add condensed milk, cocoa powder, and chocolate.  Bring to a boil, whisking constantly. When it starts to bubble and the chocolate is melted, reduce the heat to low.   Continue whisking for another 3-5 minutes until it has thickened like fudge.  Pour this mixture into a large bowl without scraping the bottom of the pan. Set aside.
In a medium saucepan over low heat, melt the butter. Pour into brigadeiro and whisk vigorously until smooth. At first the mixture will curdle and may break apart. Keep whisking constantly until the mixture comes together and is completely incorporated.
In a separate bowl, beat together the eggs, yolks, salt, sugar and vanilla. Add into the brigadeiro and whisk until well combined. Add the flour and using a spatula, mix until just combined.
Pour the batter into the foil cups filling them almost to the top leaving about ¼-inch. You can prepare the recipe up to this point and refrigerate for 5 days.
Bake in the oven for 7-9 minutes, or until the edges are firm but the center is still soft.
Invert onto a dessert plate. Serve with ice cream.