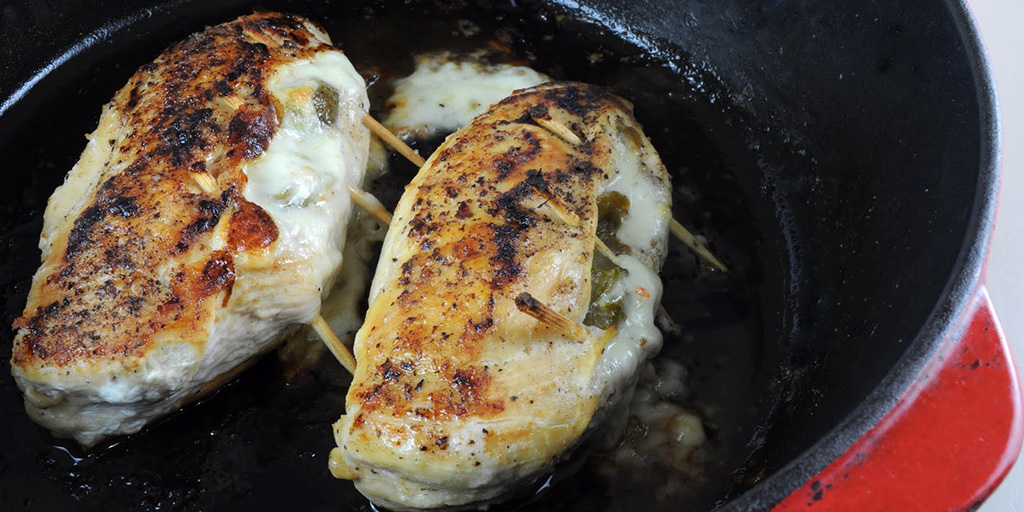 Ingredients
6 boneless, skinless chicken breasts
2 cups Monterey Jack cheese, grated
3 eggs, lightly beaten
1 cup milk
2 cups four
2 cups yellow cornmeal
1 cup vegetable oil
2 cups Simple Green Chili Sauce (recipe follows)
½ cup Monterey Jack Cheese, grated
Directions
Preheat oven to 450°F.
Cut a pocket into the middle of each chicken breast. Pack each one with cheese.
In a small bowl, beat together eggs and milk.
Dip the stuffed breast in flour, then the egg batter. Roll them in the cornmeal.
In a large heavy skillet add oil and heat to 375°F.  Add the breasts and sauté on both sides until they are browned.
Place the sautéed breasts in a butter baking dish.
Cover with the chili sauce and the rest of the cheese.
Bake for 6 to 8 minutes, until chicken is fully cooked and cheese has melted.