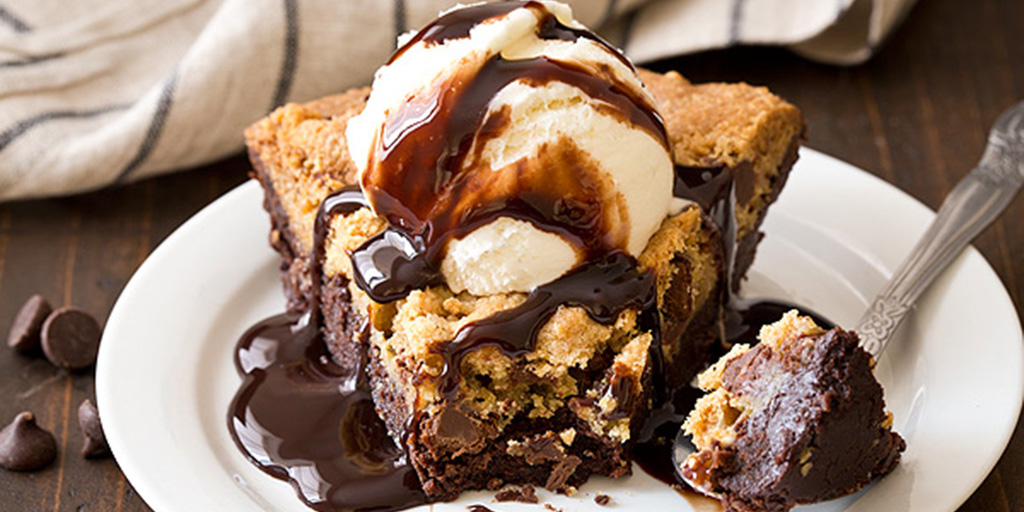 Ingredients
Cookie Layer
2 cups all-purpose flour
1 teaspoon baking soda
½ teaspoon salt
¾ cup unsalted butter, slightly melted in microwave
¼ cup granulated sugar
¾ cup brown sugar, packed down
1 large egg, at room temperature
2 teaspoons vanilla extract
1½ cups semi-sweet chocolate chips
Brownie Layer
8 ounces coarsely chopped semi-sweet chocolate
½ cup unsalted butter
¾ cup granulated sugar
¼ cup packed brown sugar, packed down
3 large eggs, at room temperature
1 teaspoon vanilla extract
½ cup + 2 tablespoons flour
2 tablespoons unsweetened dutch-processed cocoa powder
¼ teaspoon salt
Directions
Preheat oven to 350°F. Grease a deep-dish pie pan. Set aside.
Make the cookie dough: Mix the flour, baking soda, and salt together until combined. Set aside. In a large bow of a stand mixer combine the sugars and butter.  Beat using paddle attachment on high speed for 2 minutes.  Mix in the egg and vanilla.  Scrape down the sides and bottom of the bowl as needed. Add the dry ingredients into the wet ingredients and then mix on low speed until just combined. Press evenly into the prepared pie pan.
Make the brownie batter: Melt chocolate and butter together in the microwave until just melted. Allow to cool for 5 minutes.  Add both sugars, the eggs, and vanilla extract and using a spatula mix well.  Add the flour, cocoa, and salt and mix using a spatula being careful not to over mix.  Spread over the cookie layer.
Bake the pie for 45-60 minutes.  A toothpick inserted into the center should come out mostly clean with a few moist crumbs.  Loosely tent the top of the pie with aluminum foil if the edges are browning too quickly.
When done, remove from the oven and cool 10 minutes.  Serve warm with ice cream and your favorite chocolate sauce.
Related articles across the web