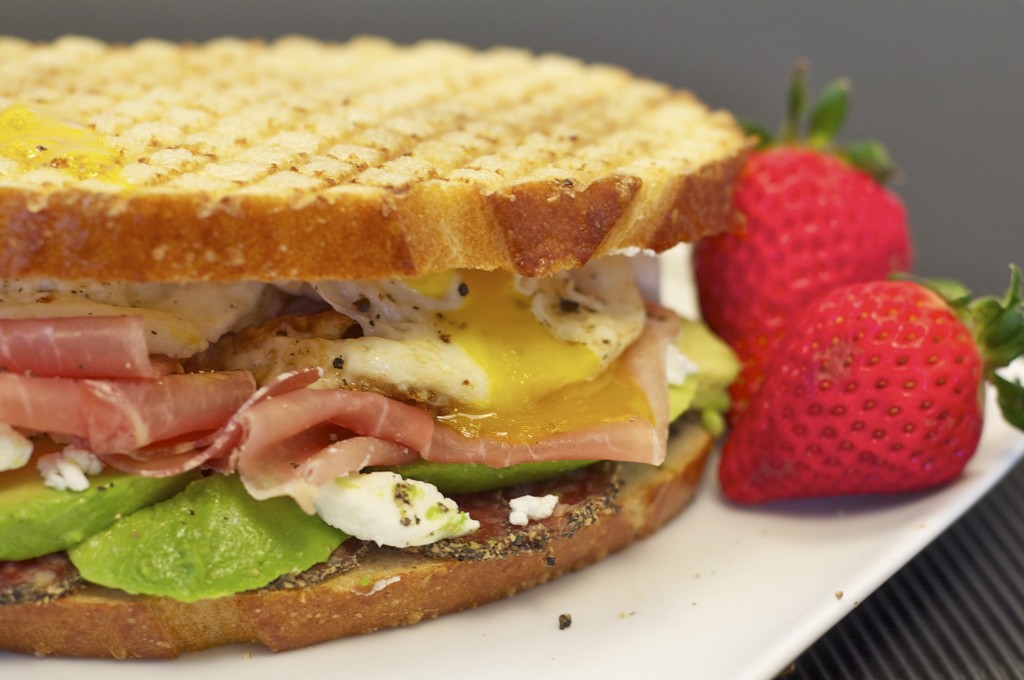 You will never be able to eat any old breakfast sandwich after trying this delicious creation, and it's great for lunch, too. I would like to stamp it with a Made in California and send it your way but it would ooze too much deliciousness in the mail so you'll have to create it yourself. The sharp saltiness of the Monterey Jack, paired with lovely Prosciutto, combines a creamy delicious undertone with a Californian favorite – the avocado. Now, at our house we top them up with basil leaves and let the good times roll in the California sunshine.
Ingredients
8 slices of country French bread
½ cup unsalted butter, softened
8 slices Italian Prosciutto, thinly sliced
4 slices Monterey Jack cheese, thinly sliced
1 teaspoon vinegar
4 eggs
2 avocados, peeled and thinly sliced
8 basil leaves, thinly slices, chiffonade style
Salt and pepper
Directions
Preheat broiler.
Spread butter onto both sides of the sliced bread. Put into broiler and broil until just slightly brown on both sides.
Place ¼ of an avocado onto each piece of bread, followed by a slice of cheese then followed by a slice of Prosciutto.
Broil until the Prosciutto gets crispy and the cheese has melted. Turn off oven and move bread slices to lower shelf to keep warm while preparing the rest of the dish.
Boil water in medium skillet filled ¾ full with water. Add 1-teaspoon vinegar to the water. Poach eggs 3-4 minutes, depending upon preferences. The idea is to leave the yolks a little runny.
Remove eggs from water with a slotted spoon and place on top of bread slices. Lightly salt and pepper. Sprinkle