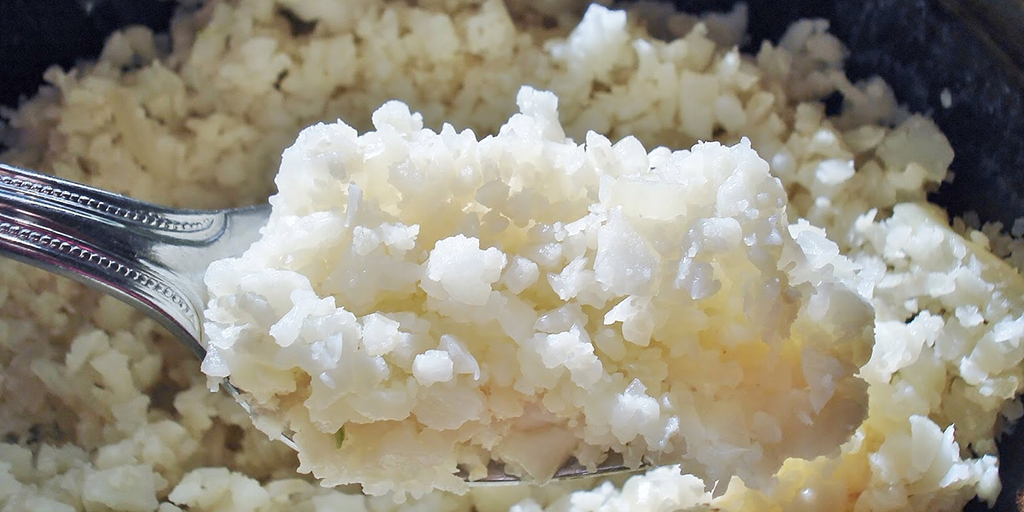 Ingredients
1 large head of cauliflower
2 cloves garlic, minced
½ white onion, finely chopped
2 eggs
1 tablespoon coconut oil
1 teaspoon garlic powder
1 teaspoon kosher salt
¼ teaspoon pepper
Directions
Chop cauliflower into pieces.  Place in food processor.  Pulse until it reaches a crumbly, rice like texture.  Do not over process.
Using a large sauté pan over medium heat, melt coconut oil. Add the onion.  Sauté
until the onions are tender, about 8 minutes.  Add garlic and cook for 30 more seconds.
Add the cauliflower, garlic powder, salt, and pepper.
Cook over medium heat about 20 minutes, stirring often.
Whisk the 2 eggs in a bowl and then add to the sauté pan, mixing in well.  About 2 more minutes.
Fluff the cauliflower when done to give it a fluffy rice like texture.