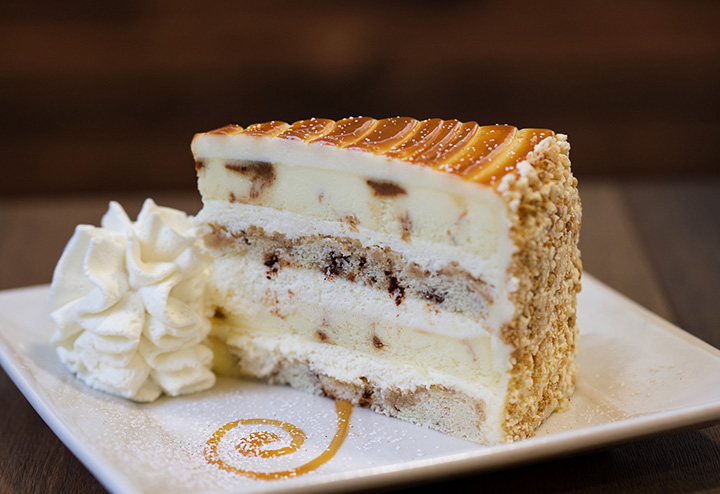 This copycat Cheesecake Factory Cinnabon Cinnamon Swirl Cheesecake is prepared vegan style.  Vegan ingredients include the use vegan-based margarine, and cream cheese, in addition to tofu and almond mix. It will come out smooth and creamy – baking it without a water bath.  Enjoy this recipe!
Ingredients
17 rectangles graham crackers
1 tablespoon butter flavoring
3 tablespoons cornstarch
1 ⅓ cups raw sugar
5 tablespoon vegan margarine, melted
⅔ cup vegan sour cream
3 packages of vegan cream cheese, at room temperature (8 ounce)
1 teaspoon lemon zest
2 tablespoon vanilla nut & butter flavoring
1 tablespoon almond milk
3 tablespoon raw sugar
½ cup firm tofu
2 teaspoon cinnamon
½ cup dark brown sugar
reserved 3/8 cup of the batter
Directions
Generously grease the bottom & sides of a spring form pan then line the bottom with wax paper and preheat your oven to 350F.
Form the crust by melting the margarine; add in the butter flavoring, mix well & set aside.
Now, crumb the graham crackers in a food processor and then add in the sugar; process for on high for a minute.
Combine the butter mixtures together with graham cracker in a medium bowl until incorporated well. Press the mixture to the bottom of the spring form pan; set aside.
Prepare the batter by blending ⅓ cup of the sugar and cornstarch with a package of the cream cheese for a couple of minutes on low. Stop; scrape down the sides of your bowl and then slowly add in the leftover cream cheese; don't forget to scrape the sides of your bowl down, as required.
Combine the leftover sugar with lemon zest. Increase the speed to medium & add lemon sugar into the cream cheese mixture. Add in the vanilla; scrape the sides & set aside.
Combine tofu with almond milk in a blender or food processor until completely smooth. Mix in tofu mixture into the batter on medium speed. Add in the sour cream; mix well & scrape the sides again.
Reserve approximately 3/8 cup of the batter for swirl mixture. Pour the leftover batter into the prepared pan over the crust; set aside.
For swirl mixture take the kept-aside batter together with cinnamon & brown sugar; combine well. Scoop a few tablespoons full of the cinnamon mixture over the cheesecake; pressing it down gently with a spoon. Swirl the cinnamon using a knife tip to.
Bake in the preheated oven for 60 to 75 minutes. Let cool for a few hours. Cover & let refrigerate for 4 hours more. Garnish with the brown rice syrup and chopped pecans; serve immediately & enjoy.