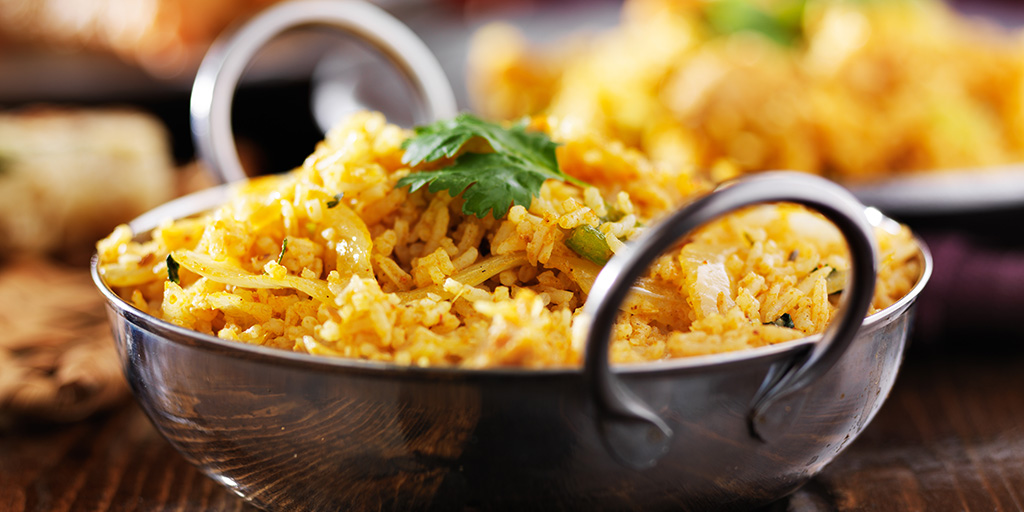 Ingredients
1 pound chicken, pieces
2 cup rice
3 medium onions, sliced
4 tablespoon salt
1 teaspoon garlic paste
¼ teaspoon turmeric powder
1 tablespoon red chili powder
¼ cup cooking oil
2 tomatoes, sliced
2 whole green chilies
1 tablespoon cumin seeds
2 cinnamon sticks
3 cloves
2 green cardamoms
1 teaspoon cumin powder
1 black cardamom
4 cups of water
3-4 drops of yellow/orange food color
Directions
Soak rice into water for 15 minutes.
Boil water in a saucepan put rice and 2 tablespoons of salt, after that drain water and place rice aside.
Heat oil in a pan and add cinnamon sticks, black cardamom, cumin seeds, cloves, green cardamom, and fry for 30 seconds.
Add onion and fry till golden then add chicken, garlic paste and fry until light golden.
Add red chili powder, turmeric powder, salt, tomatoes, green chilies, cumin powder and fry for another 2 minutes.
Now add boiled rice, top with few drops of food color, cover with lid let to cook for 15 minutes on slow flame, serve and enjoy.
Related articles across the web