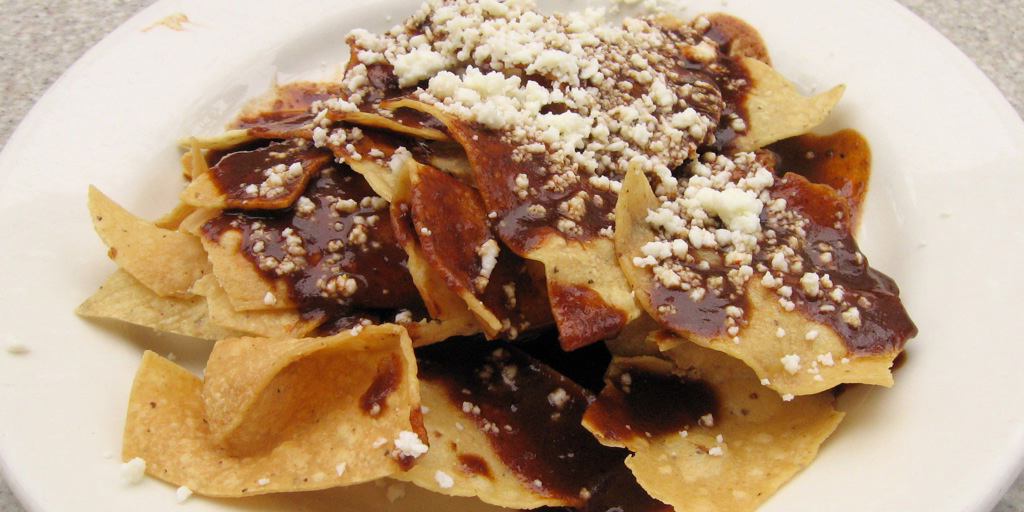 Ingredients
1 10-ounce bag tortilla chips (unflavored)
1 cup chicken broth
1 cup tomato sauce
4 ounces Mexican chocolate, such as Ibarra
3 tablespoons brown sugar, packed
2 tablespoons vegetable oil
2 tablespoons butter
3 teaspoons fresh garlic, minced
½ teaspoon cumin, ground
½ teaspoon cinnamon, ground
½ teaspoon smoked paprika
¼ teaspoon salt
¼ teaspoon pepper, freshly ground
2 tablespoons cotija cheese, grated
1 teaspoon sesame seeds, lightly toasted (optional)
1 green onion, chopped (optional)
Directions
Preheat oven to 350ºF.
In a medium saucepan, add all the ingredients except the last three.
Whisk ingredients while cooking over medium heat.  Chocolate should be completely melted and flavors blend together, about 5 minutes.
In the meantime, place the chips on a cookie sheet, and warm in the oven for 5 minutes.
When sauce thickens, turn off heat and remove from the stove.
Remove chips from the oven and let cool slightly.  Place on a serving platter and spoon mole sauce over the chips.
Sprinkle sesame seeds, green onions and cotija cheese over the top.