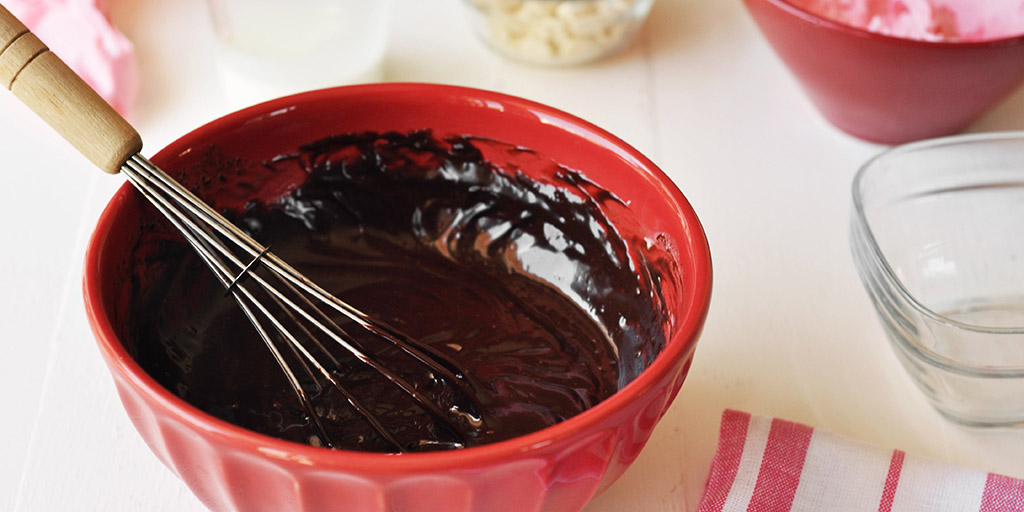 Ingredients
8 ounces semisweet chocolate, chopped or chips
1 teaspoon lemon juice
1 tablespoon water
1/2 cup (3 1/2 ounces) sugar
1 cup heavy cream
2 tablespoons unsalted butter, cut into small cubes
Directions
Put the chocolate into a small heat-resistant bowl and set aside.
Put the sugar, water, and lemon juice in a saucepan over medium heat and stir just until the sugar has dissolved. Let the syrup come to a boil without stirring, occasionally washing down the sides of the pan with a pastry brush dipped in water. Cook the syrup until it turns a dark amber color. Swirl the pan to distribute the color and heat.
Take the pan off the heat and pour in 1/3 cup of the cream. Be careful as the caramel is very hot and will bubble up. Once the bubbling subsides stir in the rest of the cream 1/3 cup at a time, then stir in the butter a piece at a time. Put the pan back on heat until all ingredients are combined.
Pour caramel mixture over the chocolate. Let sit for 5 minutes. Whisk the mixture slowly until you have a smooth, glossy frosting.
Leave the ganache to cool, stirring now and then to help it cool, until it reaches spreading consistency, about 3 hours. If it stiffens up too much, simply put it someplace warmer than your counter.
This frosting keeps for up to 3 days.