Challah is a traditional braided bread eaten by Jews on the Sabbath and many major holidays. Halavah is a delicious middle eastern sweet confection that is traditionally served with a strong coffee or tea. Classic versions are made with tahini, which is essentially ground sesame seeds, as well as sugar or honey. Turkish and Israeli cultures have recipes with slight variations on the Middle Eastern dessert. The addition of rose water is what makes this sweet confection so unique.
Ingredients
Dough
⅔ cup warm water (at 115°F)
1 teaspoon honey
2 teaspoons dry yeast
3 tablespoons honey
⅓ cup coconut oil, melted
1 teaspoon salt
2 eggs
1 egg, beaten (for egg wash)
4 cups all-purpose flour
Filling:
1¼ cups halva, chopped
2 cups chocolate chips
Directions
In a large bowl, whisk the yeast with 1 teaspoon of honey and warm water.   Wait a few minutes until it looks foamy, about 5 minutes.
Add honey, oil, salt and eggs. Mix everything with a wooden spoon.   Gradually add in the flour one cup at a time, continuing to mix the dough.  When the dough forms into a ball, knead for 5 minutes on a floured counter. Cover the dough and let it rise for 1 hour.
The dough should be double in size.  Separate dough into 4 equal parts. Shape each part into a ball, and roll into an oblong rectangle. Sprinkle ¼ cup of the halva and ½ cup chocolate chips onto each of the 4 circles and roll into a long rope. Stretch the ropes as long as you can without letting the chocolate or halavah break through.
Braid the dough: Set the four braids in a criss-cross pattern. Fold the ends of the ropes over each other.  Then do this for the remaining 3 sides. Fold the ropes from 2 different sides.  Pinch together the two ends and tuck under the rest of the dough.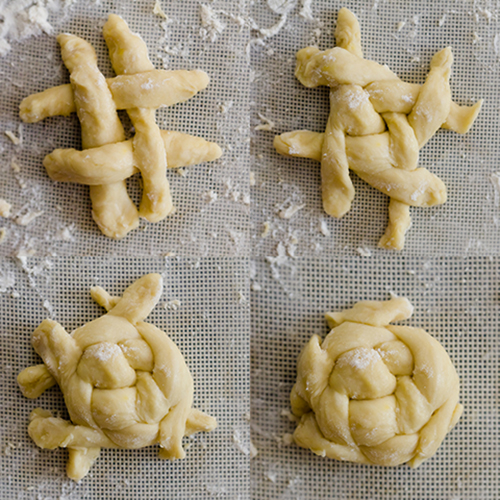 Place the dough on a parchment lined cookie sheet.
Brush the dough with egg wash (which is just a beaten egg) and let rest for 1 hour.
Preheat oven to 375 °F.
Brush with egg wash again and sprinkle the remaining halavah crumbs on top. Bake for 30 minutes on the middle oven shelf.  Cover the challah if it browns too quickly.