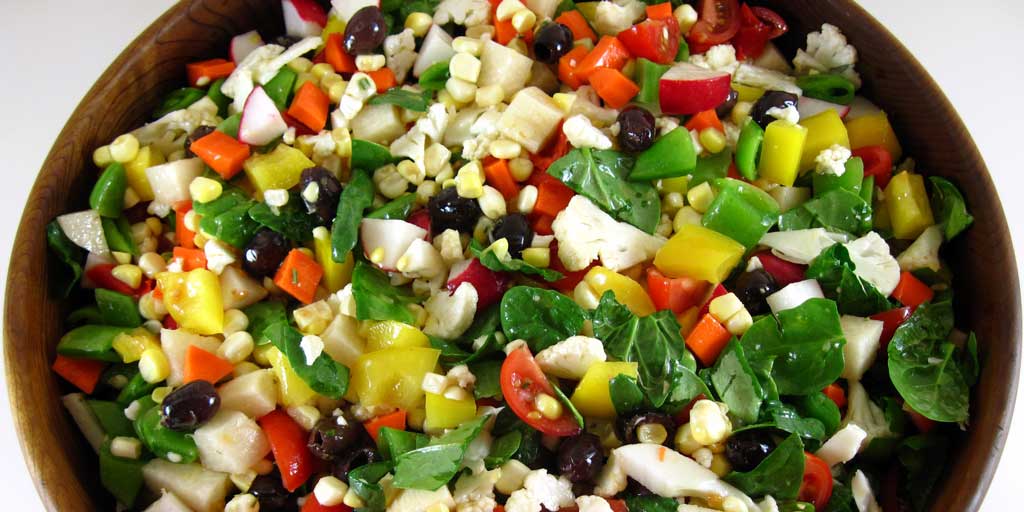 For a taste of the Mediterranean, look no further than this salad. It's refreshing and healthy and fans of the classic Greek Salad will love the similar flavors. This makes a nice complement to a main dish. Find a good Pinot Grigio or Riesling to go with this salad. For red wine drinkers, a Pinot Noir will also work.
Ingredients
2 cups cauliflower, finely chopped
3 tomatoes, chopped
2 carrots, peeled and finely chopped
1 green pepper, finely chopped
1 red pepper, finely chopped
2 stalks celery, finely chopped
2 cucumbers, finely chopped
1 red onion, finely chopped
½ head cabbage, finely chopped
¾ cup good feta cheese
For dressing
⅓ cup apple cider vinegar
⅔ cup high quality extra virgin olive oil
2 tablespoons Greek Seasoning (oregano, thyme, basil, mint, marjoram, garlic salt, onion salt)
1 tablespoon sugar
Ground pepper to taste
Directions
In a large bowl, combine all the vegetables and mix.
Combine all the marinade Ingredients and mix well. Pour over vegetables and toss to coat.
Refrigerate 30 minutes before serving.