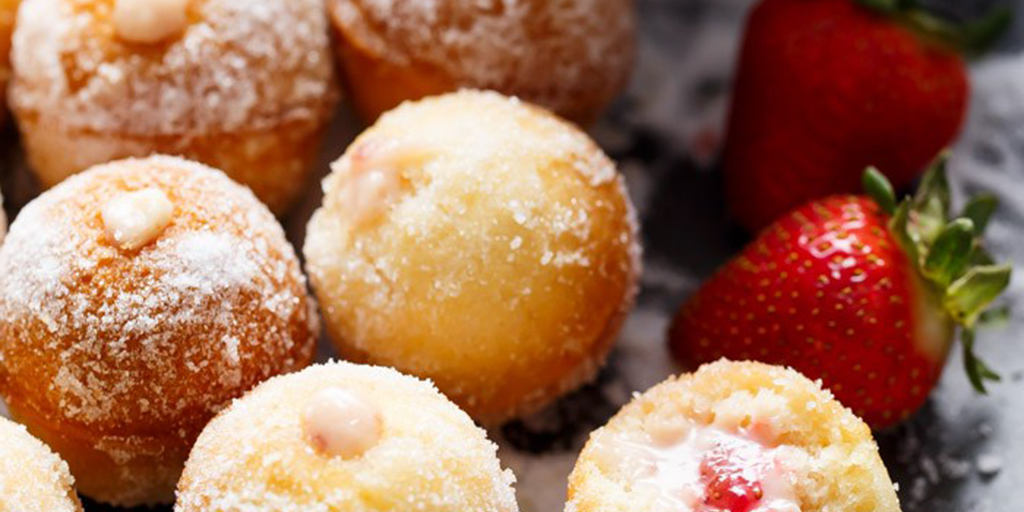 Ingredients
Donut Holes
1 cup all purpose flour
2 tablespoons sugar
1¼ teaspoon salt
1½ teaspoon baking powder
2 tablespoons canola or melted coconut oil
1 large egg
2 teaspoons pure vanilla extract
½ cup whole milk
½ cup sugar for coating
Filling
⅓ cup cream cheese
2 tablespoons powdered sugar
2 tablespoons strawberry or raspberry jelly
Directions
Preheat oven 350°F.
Spray a 24-count mini muffin pan with a non-stick spray then set aside.
In a large bowl, mix all of the dry ingredients together. Add the oil, egg, vanilla and milk. Whisk the batter until smooth and lump free but do not overmix.
Spoon about 2 teaspoons of batter into each muffin compartment, filling to ¾ full. Bake for 10-15 minutes or until golden and an inserted toothpick comes out clean.
In the meantime, make the cheesecake filling. Combine the cream cheese together in a small bowl with the sugar. Beat until smooth. Add the jelly slowly until creating a swirl effect
When done, remove donut holes from the oven and allow them to cool for 5 minutes. Place sugar for coating is a bowl and then while they're still warm, gently roll each donut hole into the sugar until evenly coated.
Fill a piping bag with the cheesecake filling, and using a narrow nozzle, fill each donut hole with the strawberry cheesecake until they puff up and expand, careful not to pipe too much that they overflow.