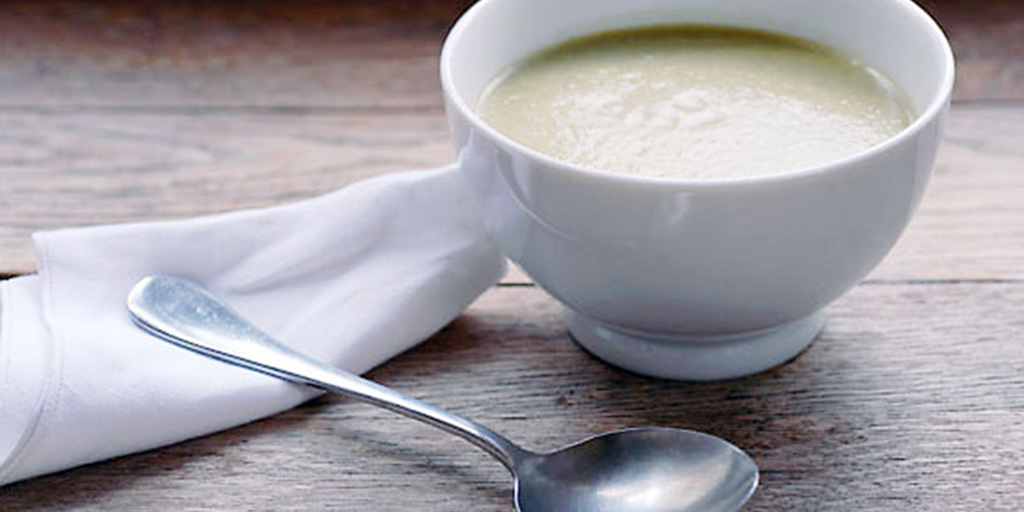 Ingredients
1 tablespoon canola or other vegetable oil
¼ cup celery, diced
2 cups onion, chopped
2 garlic cloves, minced
½ teaspoon kosher salt
2 stalks broccoli, divided
4 cups vegetable stock
½ cup water
⅓ cup quick-cooking oatmeal
1 tablespoon fresh lemon juice
1 teaspoon dried dill
1½ teaspoon black pepper
Minced fresh chives, for garnish
Optional, lemon, cut into paper-thin slices, for garnish
Directions
Heat oil in medium pot; add celery, onions, garlic and salt. Cook covered, over medium heat for 10 minutes, stirring often.
Cut broccoli into florets. Peel and chop stems. Reserve 1 cup broccoli florets.
Bring to boil stock and the remaining broccoli to the pot. Once boiling, simmer 5 minutes.
Add oatmeal to pot; simmer for about 10 minutes, stirring often.  Off heat, stir in lemon juice, dill and pepper.
Puree the soup in a blender, in batches, until smooth.
Bring water to a boil in a small saucepan. Add reserved broccoli florets and cook, covered, until they are bright green and crisp tender, 3 to 5 minutes.
Stir the florets and their cooking water into the soup. Garnish with chives and lemon slices.
Related articles across the web