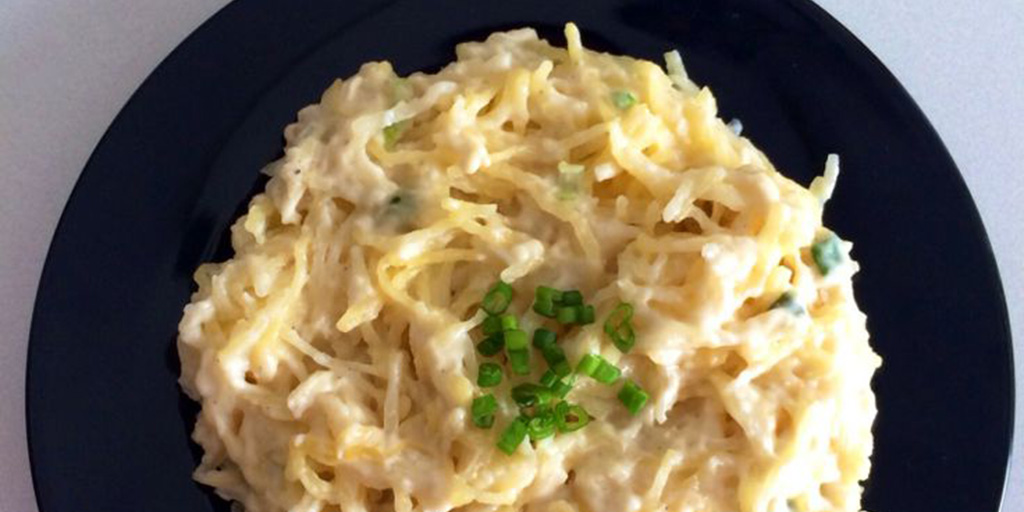 Ingredients
1 tablespoon olive oil (EVOO)
2 cloves garlic, minced
12 ounces cauliflower florets
1 cup non-dairy milk such as rice milk
½ teaspoon kosher salt, to taste
black pepper, to taste
1 spaghetti squash, cut in half
Optional:

½ cup Parmesan Cheese
3 tablespoons basil, chopped
3 tablespoons chives, chopped
Directions
Preheat oven to 375°F.  Bake spaghetti squash face side down for 30-40 minutes.
In a small saucepan over low heat, sauce the minced garlic in the olive oil about 30 seconds until fragrant.
Add the 1 cup of water to the saucepan, along with the cauliflower, and bring the water to a boil. When the water is boiling, reduce to a simmer and cover the pot for 8-10 minutes, until the cauliflower is fork-tender and very soft.
Transfer the contents of the saucepan into a blender and season with salt and pepper. Process until very smooth and creamy. (Be careful not to let the steam blow the lid off and burn you!).  Add Parmesan cheese, if desired.
Season with additional salt and pepper, if desired.
Scoop out spaghetti squash and divide among plates.  Top with Alfredo sauce. Sprinkle each plate with parsley or basil, if desired.
Related articles across the web