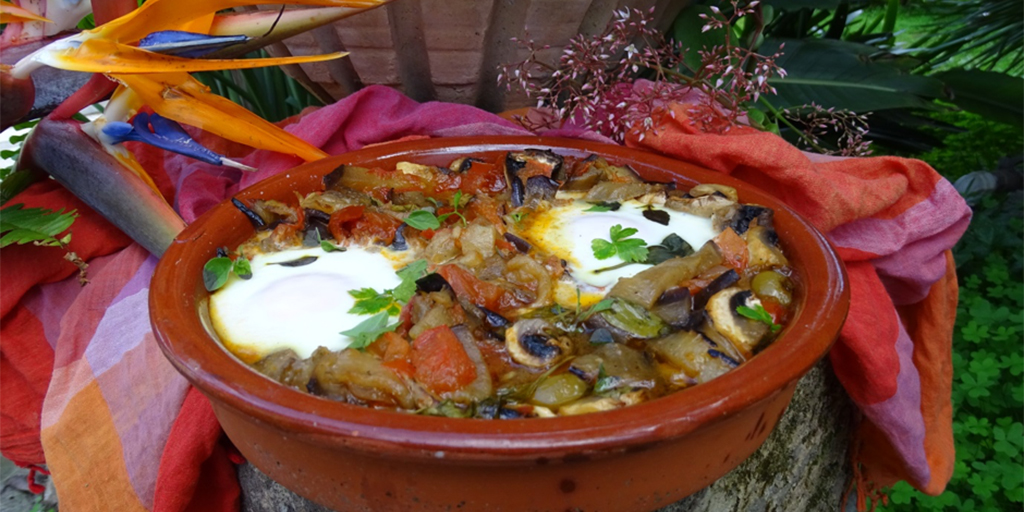 Shakshuka, shakshouka or chakchouka is a North African dish or vegetables and eggs cooked in a tomato sauce. The name is thought to originate from Arabic, meaning a mixture, or from Berber, meaning a vegetable dish. Recipes vary but this version uses eggplant for a lovely, meaty texture and olives and Feta for saltiness. It makes a nutritious, satisfying brunch or lunch dish.
This version is made on the stove-top, but the recipe can also be baked in the oven. Make it up till the eggs are placed in the vegetables and then place in a preheated oven at 350°F/180°C for 30 minutes to set the eggs and intensify the vegetable flavors.
Ingredients
2 tablespoons/30ml olive oil
1 medium onion, chopped
2 large cloves garlic, minced
5 ounces/100g sliced mushrooms
1 medium eggplant, cut into strips
12 pitted green olives, halves
1 teaspoon/5ml sweet paprika
1 teaspoon/ 5ml ground cumin
¼ teaspoon/1ml finely-chopped dried cayenne pepper or red pepper flakes
1 ¼ cups/300ml finely-chopped sweet tomatoes
¾ cup/180ml water
1 ounce/30g Feta cheese, crumbled
4 large eggs
1 tablespoon/15ml chopped fresh herbs, e.g. basil, oregano, marjoram or thyme
Directions
Heat oil in a large skillet or cast-iron frying pan until very hot.
Fry the first 8 ingredients together
Add tomatoes and water.
Cover and cook 10 minutes.
Season with salt and pepper, if desired.
Stir in Feta.
Make 4 hollows in the vegetable mixture.
Break an egg into each hollow.
Cover and simmer for 5 minutes.
Remove from heat, and leave to stand, covered, until the egg whites are set
Sprinkle with fresh herbs. Serve.