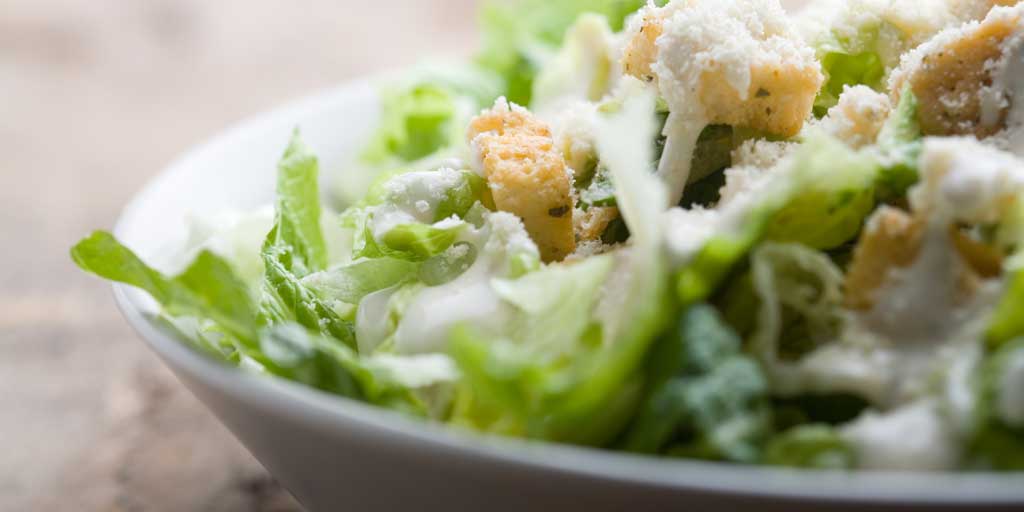 My entire extended family is in love with Caesar salad. My father-in-law can't fathom why a restaurant wouldn't have this "staple" dish on their menu. If he doesn't see it listed on a menu, he'll ask, even if it's a Chinese restaurant. I've frequently made this version for him, which he loves. A champagne or Sauvignon Blanc pairs well with this course.
Ingredients
For croutons
1 pound round sour dough bread, cut into ¾" cubes
½ cup olive oil
1 clove garlic, mashed
¼ cup finely grated parmesan cheese
½ teaspoon flaked salt (such as Maldon)
For dressing
1 clove garlic, mashed
2 teaspoons Worcestershire sauce
3 tablespoons freshly squeezed lemon juice
1 ½ tablespoons anchovy paste
2 large egg yolks
1 tablespoon mayonnaise
½ cup olive oil
½ cup Parmesan cheese
Dash of hot pepper sauce
Freshly ground pepper
For salad
3 hearts of romaine, washed and ripped into small bite size pieces
Extra Parmesan cheese
Freshly ground pepper
Directions
For croutons
Preheat over to 250°F. Mix all Ingredients (except bread) into a large bowl, Add bread cubes and mix to coat. Place on baking sheet and bake for 30-45 minutes until dried and crisp. After 30 minutes, if not done, turn off oven and leave bread in oven to finish drying out.
For dressing
In a medium bowl, combine garlic and lemon juice. Let stand for 2 minutes to mellow garlic.
Whisk in anchovies, Worcestershire, mayonnaise and yolks.
Add olive oil and whisk until emulsified. Add cheese and pepper.
Put in 1-4 dashes of hot sauce. More can be used if you want a stronger bit.
For salad
In a large bowl, place cut-up hearts of romaine. Add dressing and coast all pieces.
Serve on salad plates. Top with croutons. Sprinkle additional cheese and cracked pepper over the top as desired.