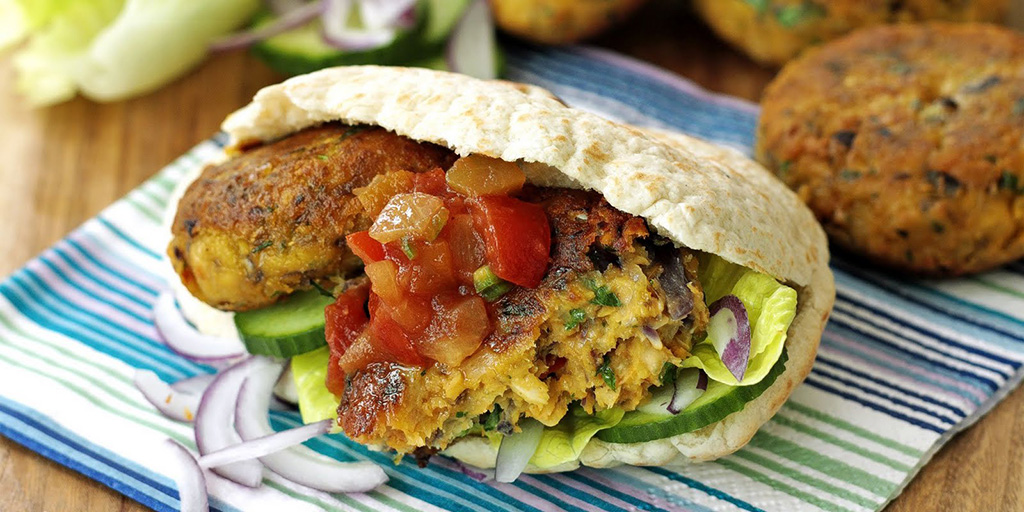 Ingredients
Roasted Garlic Aioli:
1 head roasted garlic, mashed to a paste
2 tablespoons sour cream
½ cup mayonnaise
1 teaspoon ground ginger
2 tablespoons fresh lemon juice
2-3 dashes Tabasco sauce
salt and pepper to taste
Pickled red onions:
½ cup apple cider vinegar
1 tablespoon sugar
1½ teaspoons salt
1 red onion, thinly sliced
1 teaspoon coriander seeds
½ teaspoon fennel seeds
pinch red pepper flakes
Falafel Patties:
2 cups dry chick peas
2 garlic cloves, chopped
¼ yellow onion, chopped
½ bunch curly parsley
½ bunch cilantro
1 tablespoon cumin
2 tablespoons oat flour (or all purpose flour)
1 teaspoon baking powder
1 teaspoon salt
½ teaspoon cracked black pepper
Assemblage
2 pita breads (sliced in half) or 4 burger buns
thinly sliced cucumbers
Directions
Roasted garlic aioli:
Whisk together  all the aioli ingredients into a mixing bowl. Cover and set aside.
Falafel patties:
In a mixing bowl, add the dry beans.  Fill with enough water to completely cover the beans. Allow beans to soak overnight, about 12 hours. Drain and set aside.
In a food processor, add garlic, onion, parsley, and cilantro. Pulse 4 to 5 times. Add chick peas and  the remaining ingredients.  Blend until finely ground and the mixture holds together.
Transfer to a mixing bowl, cover and refrigerate for 30 minutes.
After the mixture has chilled, divide it into 4 portions and create patties.
Place onto a parchment lined baking sheet and chill for another 30 minutes.
Fill a skillet with 2 inches of oil, once the oil is hot, carefully add 1 to 2 patties at a time and fry for about 3 to 4 minutes on each side. Drain onto a paper towel.
Season with salt and pepper and repeat until all patties have been fried.
Qickled red onion
Whisk to dissolve sugar and salt in the vinegar. Add remaining ingredients, stir, cover and set aside.
Allow red onions to 'pickle' for at least 30 minutes to 1 hour.
To assemble
Toast pita. Spread the aioli onto each patty and insert into the pita pocket.
Top patty with sliced cucumbers and pickled red onions.
Related articles across the web