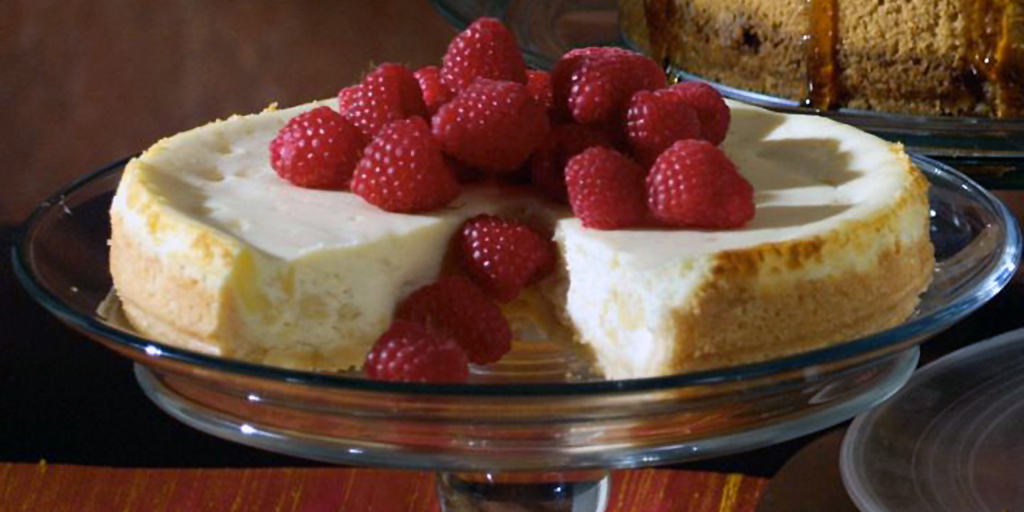 Ingredients
For the crust
6 tablespoons butter
1 cup all-purpose flour
⅓ cup sugar
1 teaspoon vanilla extract
For the filling
½ cup sugar
1 teaspoon vanilla extract
2 – 8 ounce packs light cream cheese, softened
2 eggs
8 ounces Camembert or Brie cheese, room temperature
Fresh raspberries for finishing if desired
Directions
Heat the stove to 350°F.
For the crust, add the butter and sugar together in a bowl and beat well, then mix in the vanilla.
Stir in the flour until it becomes crumbly.
Add the mix to 9 inch springform and compress it down over the base and about 1 inch up the edges.
Using a fork make wholes over the base, then cook for 15 minutes, once it has set and is brown in color, take out and cool.
Meanwhile make the filling, first add the sugar with the butter in a bowl and beat together.  Add the cream cheese and beat to incorporate.
When it becomes smooth mix in the eggs one by one.
Take off any rind that maybe on the cheese and cut into small pieces.
Now place these in the cheese mix and add the vanilla.
Pour the mix into the springform over the base, do not worry about the lumps.
Cook for 25 minutes.
Once set in the middle, take out and cool.
Chill in the fridge when cool for 2 hours.
Take off the springform and serve.
Finish with the raspberries on top.