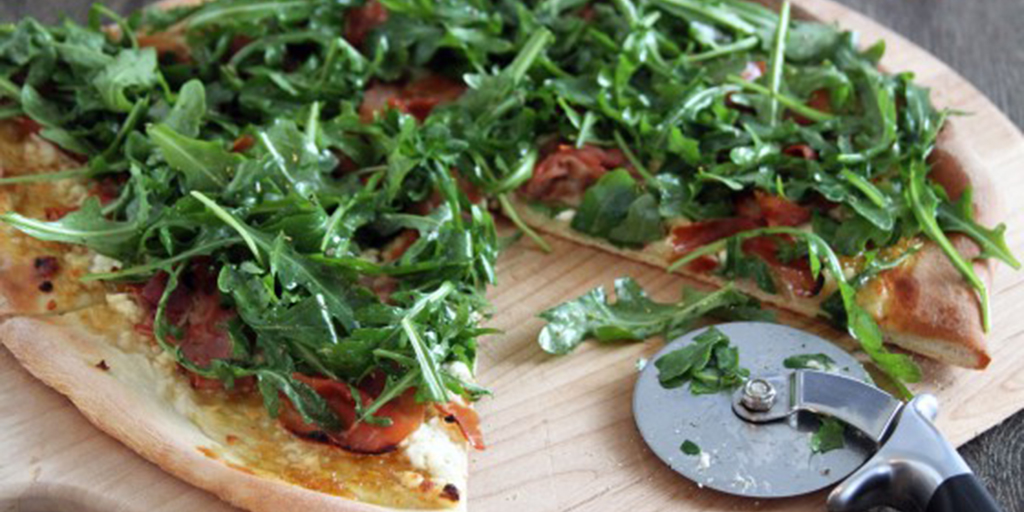 Ingredients
For the Pizza
1 pound pre-made pizza dough
1 tablespoon cornmeal, medium ground
6 tablespoons fig jam
¼ pound thinly sliced prosciutto
4 ounces crumbled goat cheese
For the Arugula Salad
3 cups arugula
2 teaspoons olive oil
1 tablespoon fresh lemon juice
2 teaspoons honey
black pepper, ground
Pinch of salt
Directions
Preheat oven fifteen minutes to 500°F using pizza stone.
On a lightly floured surface, using a rolling pin, roll out pizza dough to about 14-15″ in diameter.
Using a pizza peel, sprinkle with cornmeal and place rolled out pizza dough on top.
Spread a thin layer of fig jam over the entire pizza leaving a small border around the edges. Spread the crumbled goat cheese on top of the fig preserves. Add the slices of prosciutto in small mounds.
Place the pizza onto the hot stone and bake for 10-12 minutes.
In the meantime, toss together arugula with the lemon, olive oil, honey, salt and black pepper.
Pull the pizza from the oven when the goat cheese is melted, the prosciutto begins to crisp, and the pizza dough starts to turn golden brown. Remove the pizza from oven using a pizza peel.
Top with the arugula salad, cut and serve.