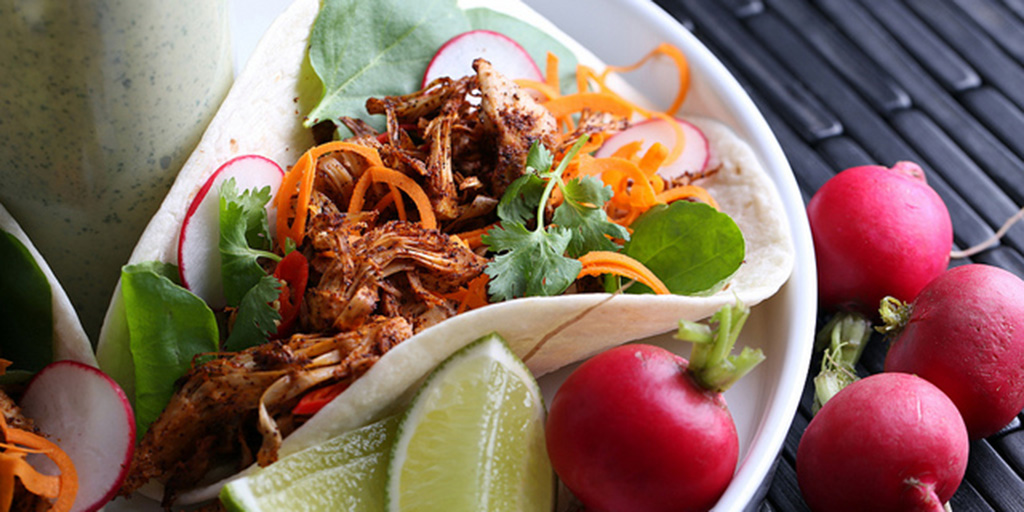 Ingredients
1 tablespoon olive oil
2 cloves garlic, minced
1 white onion, diced
1 tablespoon chili powder
1 tablespoon ground cumin
½ tablespoon paprika
⅛ teaspoon cayenne pepper (or more if you want really spicy)
1 teaspoon salt
¼ cup water
8 radishes thinly sliced
1 carrot, shredded
½ cup fresh cilantro leaves, destemmed
1 cup fresh salsa
2 avocados, peeled, sliced
8 small corn tortillas
Directions
In a large skillet over medium heat, add olive oil and then sauté garlic and onions until they start to brown on the edges.
While the onions cook, drain the jackfruit. Cut the core off of the jackfruit chunks. Using two forks, shred the jackfruit meat, removing the seed pods.
Place the shredded jackfruit, cumin, chili powder, paprika, cayenne, and salt to the pan.  Add the water.  Simmer for about 10-15 minutes.
Heat the corn tortillas.  It is best to quickly grill them but warming over the stove.  Alternatively, you can wrap them in a slightly dampened paper towel and heat them in the microwave for about 10 seconds.
Assemble the tacos using the spicy jackmeat mixture, topped with avocado slices, radish slices, shredded carrot, and cilantro.