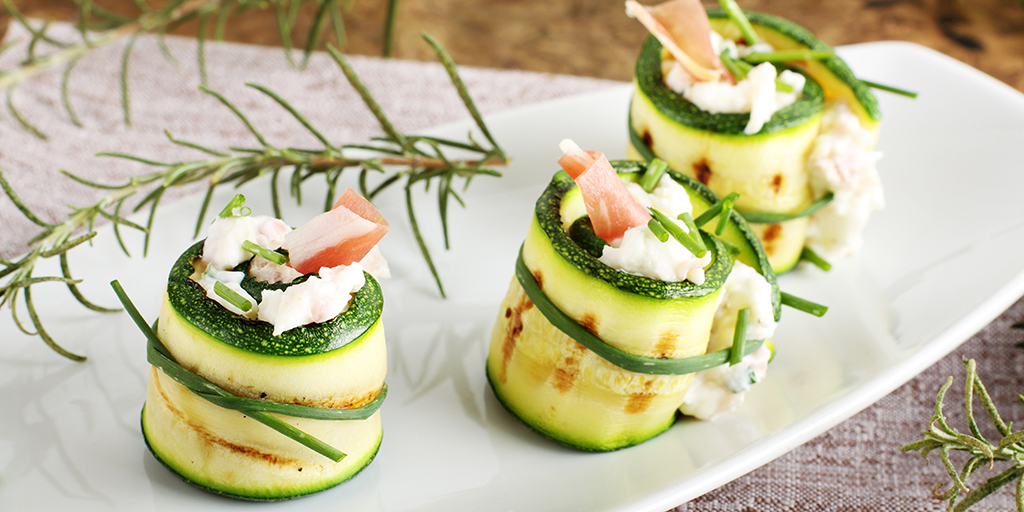 Ingredients
2 zucchini
1 tablespoon olive oil extra virgin
½ teaspoon Kosher Salt
¼ teaspoon black pepper ground
2 ounces goat cheese
2 ounces ricotta cheese whole milk
1 teaspoon lemon juice
3 slices prosciutto
10 leaves Basil
1 bunch chives
Directions
Using a mandolin, slice zucchini into ⅛ inch slices. Discard the outer layers.
Brush both slides of the zucchini slices with olive oil.  Grill zucchini about 2 minutes on each side, just until it softens and is rollable. Remove from grill and place on paper towels.
In a small metal, combine goat cheese and ricotta cheese.
Place 1 teaspoon of the cheese mixture on each zucchini slice. Add 1 basil leaf on the cheese and place a ¼ slice of the prosciutto. Roll the zucchini into roll and use one chive sprig to wrap and tie the zucchini roll.