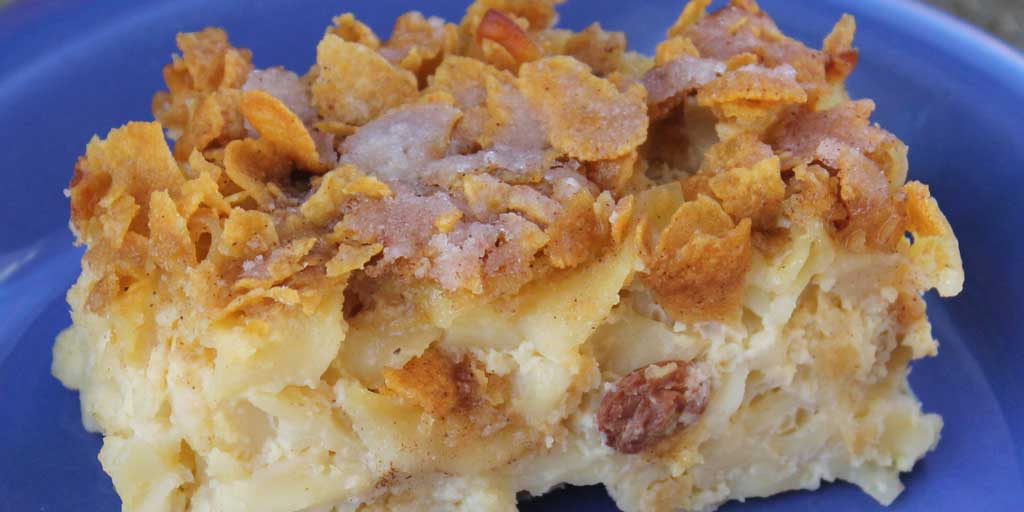 When I think of my mother's Noodle Kugel, pictures of my Eastern European ancestors pop into my mind. I see their dining tables and fascinate over how this tradition has made its way all the way from Eastern Europe to California. In fact, my mother was known for her version of this classic baked pudding made with egg noodles. It is one of my daughter's most memorable dishes of her grandmother's. This dish finds its way onto many Jewish holiday tables.
Ingredients
Kugel
1 stick (4 ounces) butter
¾ pound wide egg noodles
6 eggs, well beaten
1 container (16 ounces) sour cream
1 container (16 ounces) cottage cheese
2 cups whole milk
2 tablespoons sugar
½ teaspoon vanilla
½ cup raisins (golden is my favorite for this)
Topping
2 tablespoons sugar
½ teaspoon cinnamon
2 tablespoons butter
2 cups corn flakes, slightly crushed
Directions
Preheat over to 350°F. Butter 13x9x2" glass or ceramic baking dish.
Cook the pasta until al dente. Drain well and return to the warm pot. Add the butter tossing the noodles until they are well coated.
Soak the raisins in 1-cup hot water for 1-2 minutes. Drain.
Whisk the eggs, milk, sour cream, cottage cheese, vanilla, and sugar. Add the raisins.
Pour into the baking dish.
Put into the oven and bake 15 minutes.
Combine sugar and cinnamon. Add corn flakes. After the first 15 minutes of baking, spread this mixture evenly over the top and then bake for 45 minutes more.
Note: For interesting variations, try other dried fruits such as apricots in place of the raisins. 1 can crushed pineapple (drained) is also an interesting addition or in place of the raisins.