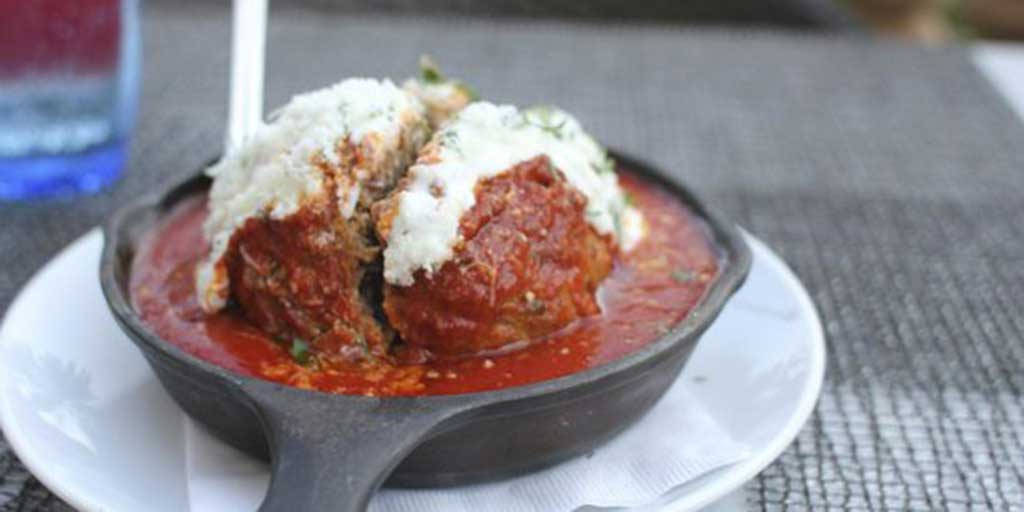 Ingredients
Meatballs
¼ cup dry plain breadcrumbs
1 ounce fresh white bread
2 ounces milk
1 pound ground Wagyu beef
1 pound ground sweet sausage
1 pound ground veal
1 teaspoon kosher salt
1 tablespoon ground black pepper
½ ounce basil, chopped
½ ounce fresh parsley, chopped
2 ounces Romano cheese, grated
2 ounces Parmesan cheese, grated
2 ounces white onion, diced
1 ounce fresh garlic, minced
Marinara Sauce
1 28-ounce can crushed Italian tomatoes
6 cloves garlic, minced
½  white onion, diced
2 tablespoons olive oil
a few sprigs of fresh basil
a few sprigs of fresh parsley
Assemblage
2 cups whole milk ricotta cheese
Freshly grated Parmesan cheese
¼ cup fresh basil, chiffonade,
¼ cup fresh parsley, chopped
Directions
In a small bowl, combine bread crumbs, bread and milk.  Allow bread and crumbs to soak up milk. Set aside
In a small skillet, add a tablespoon olive oil and sweat the onions for about 10 minutes.  Add the garlic and cook for one minute more. Set aside.
In a medium bowl, combine all three meats with olive oil.  Add the onions and garlic.  Break apart the bread and add to the meat mixture.  Add cheeses, basil, parsley, salt and pepper.  Gently mix together all the ingredients being careful not to over mix it.
Gently form large, 1 pound size meatballs. Let the meatballs rest in the refrigerator for 15 minutes.
In a large skillet over medium high heat, brown the meatballs in 1/3 cup olive oil.  Brown all sides.  Set aside.
For the marinara sauce, heat oil in a large saucepan and then add all the marinara ingredients.  Let simmer.
Immerse the meatballs in the marinara sauce, cover and let simmer one hour.
In the meantime, add the ricotta to a blender and blend on high until very creamy.
Serve the meatballs with the marinara sauce, top with a dollop or two of ricotta cheese, sprinkle with freshly grated Parmesan cheese and then sprinkle with basil and parsley.