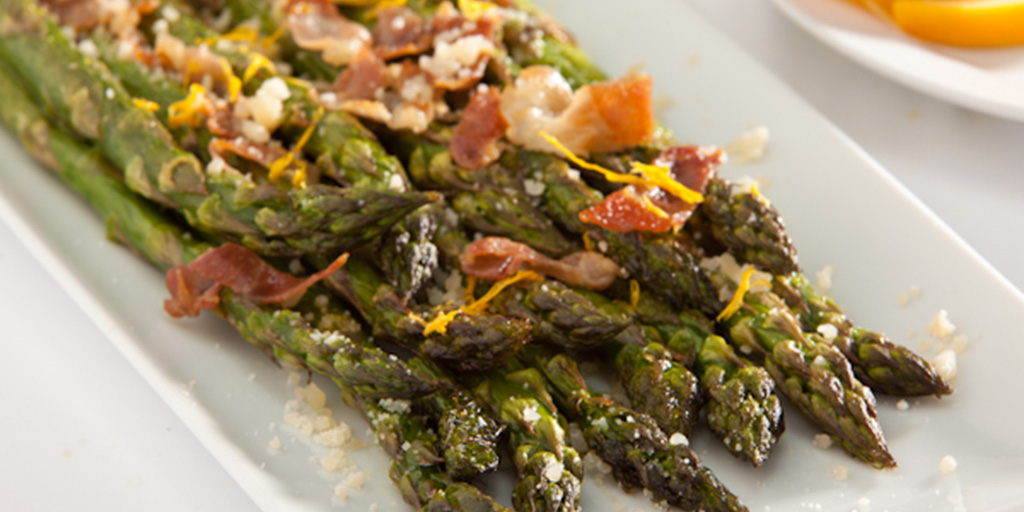 Ingredients
24 spears of asparagus
2 tablespoons extra virgin olive oil
4 slices of Prosciutto, thin slices, diced into 1″ pieces
¼ cup Parmesan cheese, freshly grated
¼ cup hazelnuts, chopped
1 tablespoon zest from a fresh lemon
1 tablespoon lemon juice
1 tablespoon of flat-leaf parsley, chopped
Kosher salt and pepper to taste
Directions
Pre-heat oven to 425°F
Cover a baking sheet with parchment paper
Place spears in a single layer and paint with olive oil fully coating every spear
Roast asparagus for 15 minutes.
While the asparagus is roasting, quickly crisp the prosciutto in a small skillet over medium high heat.  About 10 minutes.
Remove asparagus from oven, paint with lemon juice, top with Procuitto, cheese, hazelnuts and zest. Return to oven and cook another 10 minutes.
Remove from oven and sprinkle with parsley.
Related articles across the web