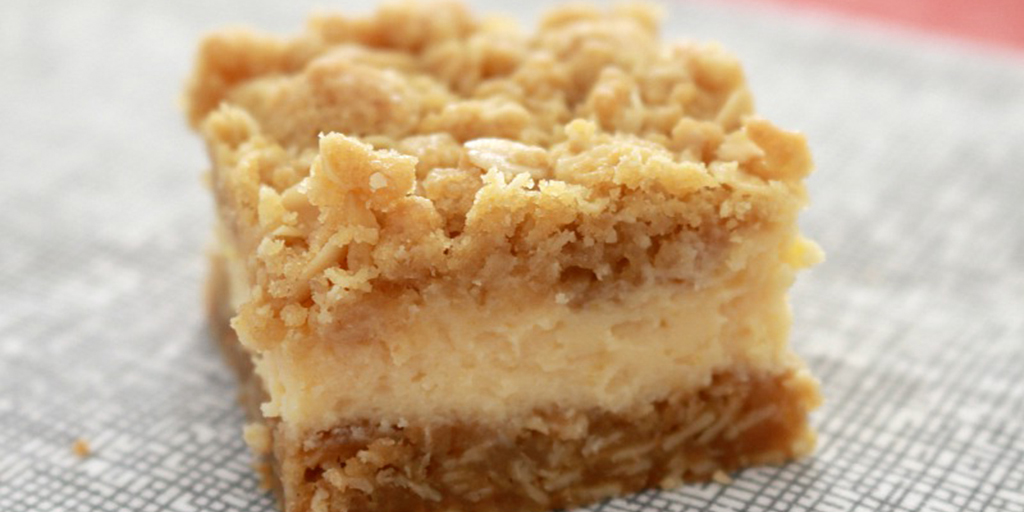 Ingredients
2½ cup rolled oats
2½ cup flour
2 teaspoons baking powder
1 teaspoon salt
1 cup granulated sugar
½ cup toasted shredded coconut, optional
1 cup brown sugar
1 cup butter, cold & cubed
8 ounces cream cheese, room temp.
3 large egg yolks
1 teaspoon lemon zest
1 teaspoon vanilla extract
28 ounces sweetened condensed milk
¾ cup lemon juice
¼ Limoncello liqueur (can replace with lemon juice)
Directions
Preheat oven to 350ºF.
Line a 9×13″ pan with parchment paper.  Butter parchment paper.
In a mixer with a paddle attachment, add oats, flour,  baking powder,  salt, sugars and coconut. Mix until well combined. While on slow speed, Add butter and mix until crumbly.
Using half of the crumb mixture, evenly press into the bottom of the pan. Leave aside the other half.
Using a whisk attachment on medium-high speed, whip cream cheese until light and fluffy.  Add yolk one a time, mixing in well before adding the next one.  Add lemon zest and vanilla.
On medium-high speed, add sweetened condensed milk and beat for 3 minutes.
On slow speed,  whisk in lemon juice and limoncello scraping sides of bowl as needed.
Pour filling into crust.   Top by sprinkling the remaining crumb mixture.
Bake for 30 minutes.
Cool lemon bars to room temperature then refrigerate at least four hours.