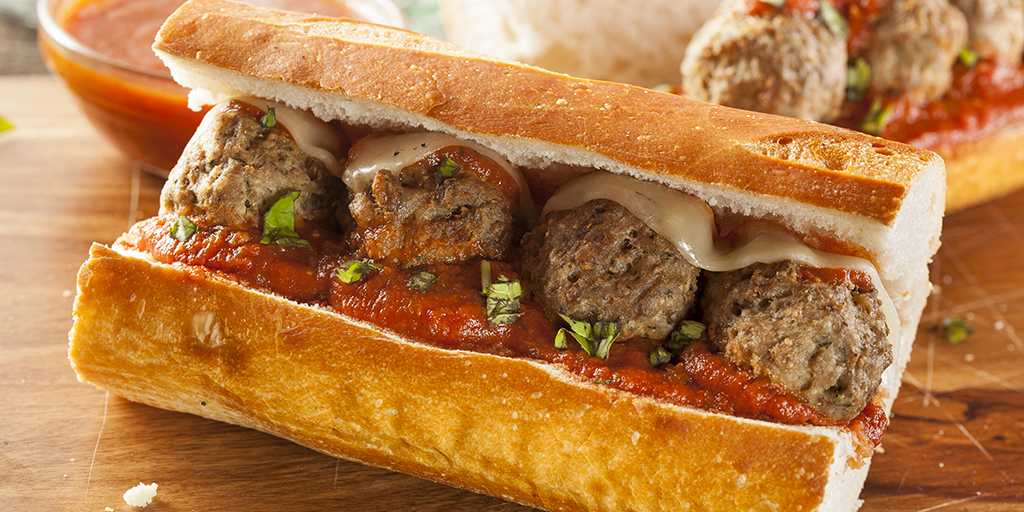 Ingredients
For meatballs
½ pound ground pork
1 pound ground beef (80% lean)
1 cup bread crumbs (Italian herb)
1 large egg
4 cloves garlic
½ cup onion, diced finely
¼ teaspoon red pepper flakes
¼ cup parsley, chopped
¼ cup Parmesan cheese, grated fine
2 teaspoons Worcestershire sauce
Flake salt
Freshly ground pepper
For marinara sauce
5 cloves garlic, minced
¼ teaspoon red pepper flakes
3 tablespoons extra virgin olive oil
2 tablespoons fresh parsley, chopped
1 teaspoon fresh oregano
1 can (14 ounces) diced tomatoes
1 can (28 ounces) crushed tomatoes
Salt
Freshly ground pepper
For assembling the subs
4 crusty torpedo sub rolls
4 tablespoons butter, melted
8 slices mozzarella cheese
Directions
For meatballs
Preheat over to 450°F.
In a large mixing bowl, place ground beef and pork and mix. Form a well with the meats. Fill with beaten egg and the rest of the meatball Ingredients. Mix until combined. Divide into four equal parts and then divide each again into four equal parts.
Put parchment paper onto a large rimmed pan. Place meatballs on the paper and put into the preheated oven. Cook meatballs about 12 minutes.
For marinara
Heat a large saucepan over medium heat. Add oil, garlic, and red pepper flakes. Cook for 30-45 seconds. Add herbs parsley and oregano and stir for about 30 seconds.
Stir in both cans of tomatoes. Season with salt and pepper. Bring saucepan contents to a simmer and continue cooking until the meatballs are done.
Add meatballs to the sauce and coat well.
To assemble
Turn oven to 350°F. Brush outside of rolls with butter. Toast in oven until they turn slightly brown and crispy, maybe 2-3 minutes. Remove from oven.
Turn oven to broil.
With a ladle or large spoon, place 4 meatballs with sauce into each roll. Top roll with 1-2 slices mozzarella cheese.
Return subs to the oven and broil until the cheese is fully melted and slightly brown on top.