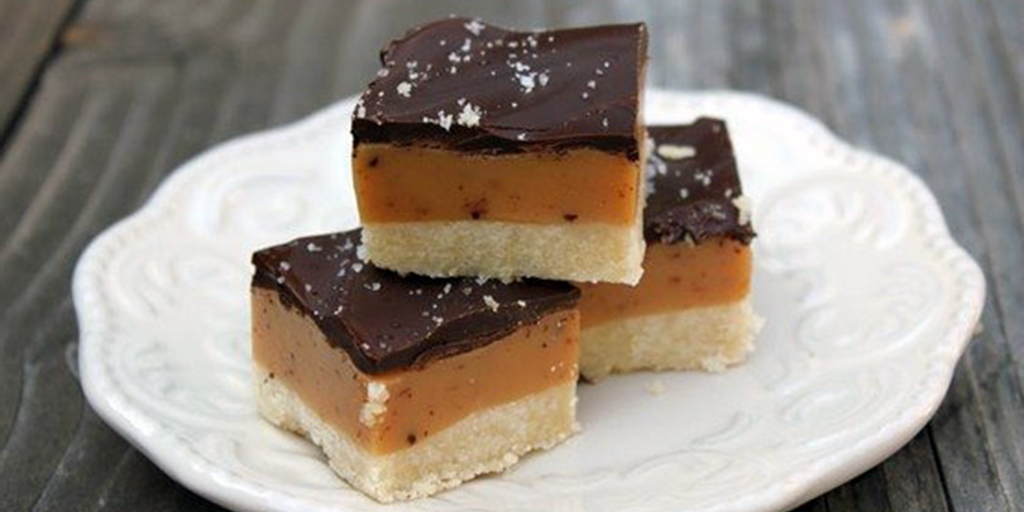 Ingredients
Shortbread Crust
2½ cups all-purpose flour
½ cup granulated sugar
¾ teaspoon salt
16 tablespoons unsalted butter, melted
Caramel Filling
1 (14-ounce) can sweetened condensed milk
1 cup packed (7 ounces) brown sugar
½ cup heavy cream
½ cup corn syrup
8 tablespoons unsalted butter
½ teaspoon salt
Topping
16 ounces bittersweet chocolate (6 ounces chopped fine, 2 ounces grated)
1 teaspoons butter, unsalted
½ teaspoon fleur de sel or flake salt
Directions
Preheat oven to 350°F. Using parchment paper, line a 13×9-inch baking pan so it folds over the sides slightly.
Combine flour, sugar, and salt in medium bowl. Add melted butter and stir with rubber spatula until flour is evenly moistened.
Crumble dough evenly over bottom of prepared pan. Using your fingertips and palm of your hand, press and smooth dough into even thickness. Using fork, pierce dough at 1-inch intervals. Bake until light golden brown and firm to touch, 25 to 30 minutes. Transfer pan to wire rack.
Using a metal spatula, press on entire surface of warm crust to compress slightly. Let crust cool until it is just warm, at least 20 minutes.
For the caramel, stir all ingredients together in large, heavy-bottomed saucepan. Cook over medium heat, stirring frequently, until mixture registers between 236 and 239 degrees, 16 to 20 minutes. Pour over crust and spread to even thickness. Be careful as the caramel is extremely hot. Let cool completely, about 1½ hours.
For the topping, microwave chopped chocolate and butter in bowl at 50 percent power, stirring every 15 seconds, until melted but not much warmer than body temperature, 1 to 2 minutes. Add grated chocolate to the bowl and stir until smooth. Spread chocolate evenly over surface of filling and lightly sprinkle with fleur de sel.
Refrigerate until chocolate is just set, about 10 minutes.
Using parchment paper overhang, lift shortbread out of pan and transfer to cutting board and slide off the parchment paper. Using serrated knife and gentle sawing motion, cut shortbread in half crosswise to create two 6 1/2 by 9-inch rectangles. Cut each rectangle in half to make four 3 1/2 by 9-inch strips. Cut each strip crosswise into 10 equal pieces.
These Millionaire bars can be stored at room temperature in a sealed container for about 1 week, if they last that long.