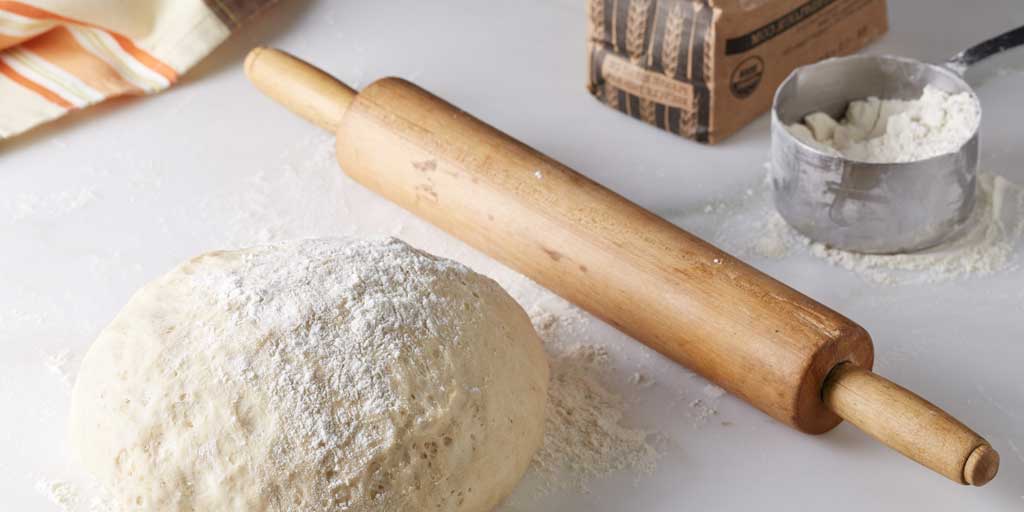 Ingredients
1 cup bread flour

1 pkg dry yeast

1 cup warm water

1 tsp granulated garlic

1/2 tsp oregano

1/2 tsp basil

1/2 tsp salt

1/2 tsp sugar

extra virgin olive oil
Directions
Get yourself a large glass mixing bowl and set it on your counter.
Sprinkle your yeast into the bowl, add warm water and mix with a fork. Add sugar, salt, garlic, oregano and basil to the bowl and mix.
Leave yeast to stand in bowl for 10 mins., meanwhile prep a clean dry surface where you will roll out your dough by sprinkling a little bit of flour.
Add salt to the bowl as well as a quarter of the dough and mix.
Add another quarter of the dough, mix and repeat until you have all of the dough in the bowl.
Begin to knead the dough together in the bowl until you can easily remove it from the bowl.
Remove your dough onto your prepared flat surface and this is the part where you're going to get a little muscle on.
Knead your dough for a good 10 mins. until it becomes one smooth ball.
Lightly coat a clean mixing bowl with a little bit of extra virgin olive oil, place our pizza ball in the bowl.
Wrap your bowl completely in a small blanket and leave in a warm place.
You know your dough is ready when it expands to fill the bowl and is double what it used to be in size.
Grab your dough and gather it back up into a ball.
Place your dough on your clean surface and using a rolling pin, roll out your dough.
If you feel comfortable enough, you can lift your pizza dough when it's still thick and stretch it out using your hands.
Place your pizza dough on a prepped pizza pan and stretch it so that it reaches the ends of the pizza tray, keep the edges slightly thicker than the rest of the pizza crust.
Now that you've gotten to this point, it's time to have some fun.
Preheat your oven to 400 degrees prior to kneading out your dough. Once your dough is on your pie plate you want to stick it into the oven for 7 mins. for a bit of pre-baking prior to the actual cooking process.