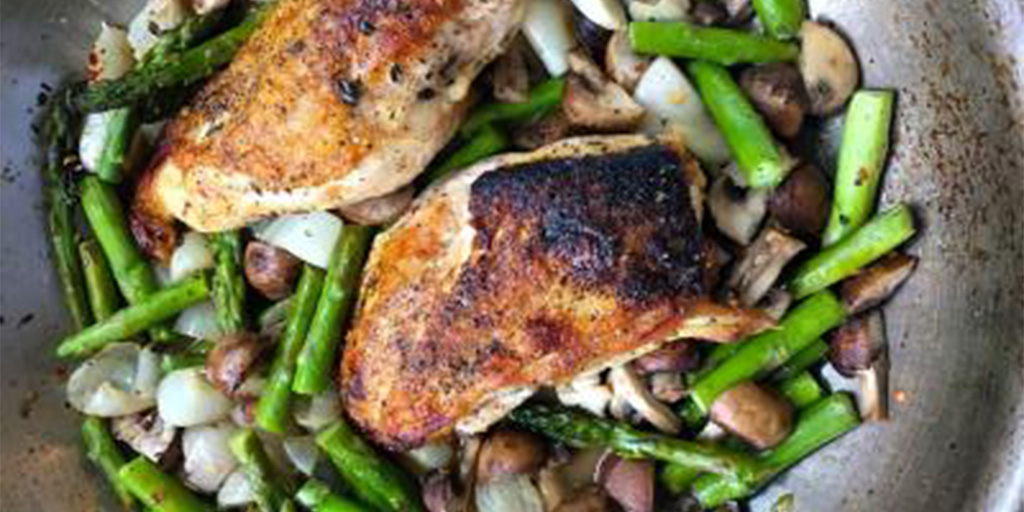 Ingredients
1 tablespoon vegetable oil
2 boneless chicken breasts with skin on
10 button mushrooms, sliced
3 shallots, quartered
3 sprigs thyme leaves
14 asparagus spears, cut into thirds
2 tablespoons butter
½ teaspoon crushed chili flakes
Salt and pepper to taste
½ cup inexpensive white wine
1 lemon, juiced
Directions
Heat oven to 375°F.
Season chicken with salt and pepper.
In a large, oven-safe skillet set over high heat, heat oil. Place chicken skin-side down in the pan. Cook for 5 to 6 minutes until skin is crisped and golden, then flip over and cook for 2 to 3 minutes more.
Add shallots, mushrooms, asparagus, thyme, butter and chili flakes, placing these ingredients around the chicken. Lightly season vegetables with salt and pepper, and transfer the skillet to the hot oven.
Roast for 15 to 18 minutes, until the vegetables are tender and the chicken is cooked through. Use a meat thermometer to check the internal temperature, which should be 165 degrees.
Remove the skillet from the oven and place on stove top.  Remove chicken to a platter.  Turn heat on high, then add wine and lemon juice to the skillet .  Cook 1-2 minutes to reduce.  Turn heat off and then add butter.  Drizzle the pan juices over the chicken and vegetables and serve.