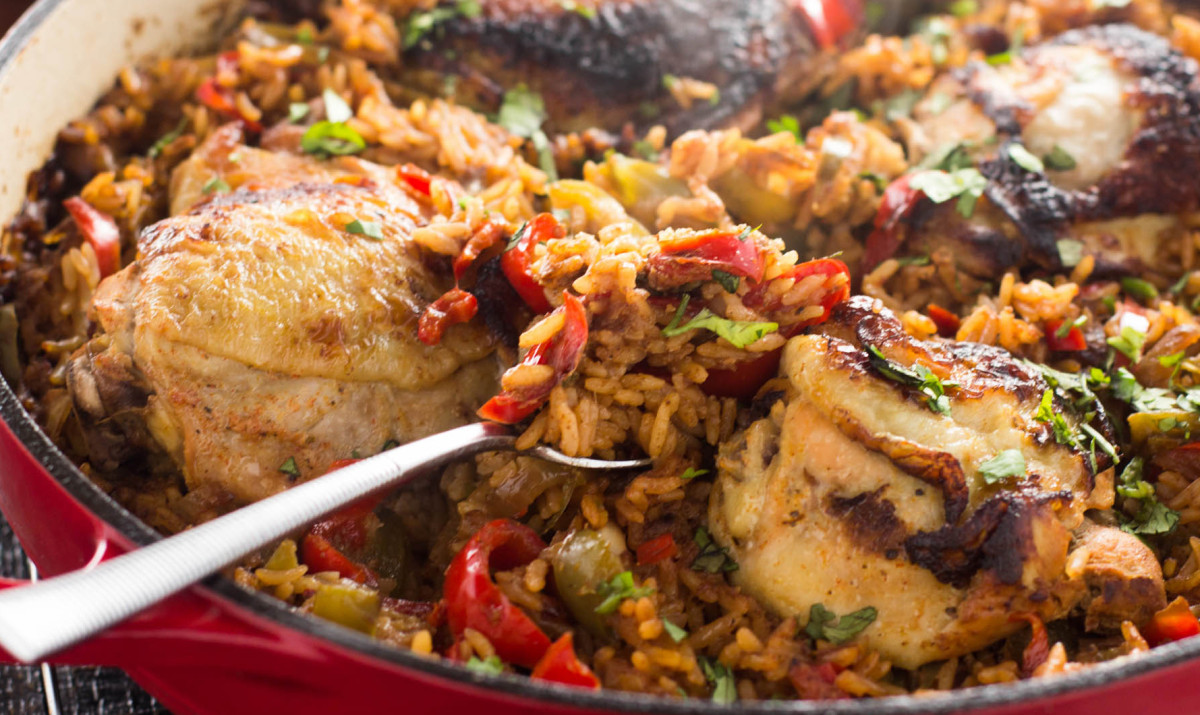 Ingredients
Fajita Seasoning
1 ½ tbsp paprika
½ tsp cayenne pepper
1 ½ tsp ground coriander powder
2 tsp cumin powder
2 tsp ground black pepper
2 tsp onion powder
2 tsp brown sugar
Marinade
½ cup – ⅔ cup of freshly squeezed orange juice (about 1 orange)
3 tbsp of lime juice (approximately 1 lime)
1 tbsp cilantro roughly chopped
¼ cup olive oil
2 tsp salt
Chicken and Rice
8 Chicken thighs, bone in skin on
2 tbsp avocado oil, separated
1 large onion, sliced
2 large red peppers, sliced
1 cup long grain rice
1½ cups chicken broth / stock
¾ cup water
3 garlic cloves, minced
2 packets of Goya Cilantro Tomato Seasoning Mix
1 15 oz can diced tomatoes
3 tbsp of roughly chopped cilantro
Directions
Combine all ingredients of the fajita seasoning.
Add marinade, ingredients into ziplock bag along with the chicken. Shake bag well ensuring that everything is covered in the marinade.
Marinade for a minimum of 30 minutes up to over night
Preheat oven to 350 degrees
Pour avocado or coconut oil into a heavy bottomed pan large enough to fit the chicken and the rice.
Place chicken on some paper towels to absorb some of the liquid. Reserve the remaining marinade.
Place chicken into hot pan skin side down and allow to sear for 3-5 minutes until golden brown. Turn over and allow the other side to sear and get golden brown.
Remove chicken and lower heat to medium heat.
Remove the darkened bits from the chicken and wipe pan clean with a paper towel. I like to hold the paper towel with tongs and wipe it around so that I do not burn my hands 🙂
Add the remaining oil and red pepper and onions to the pan. Sweat them out until translucent and soft; about 4-5 minutes.
Add in the rice, tomatoes, garlic and seasoning packets, plus any remaining marinade you may have.
Let the liquid come to a simmer and allow to simmer for 30 seconds.
Place chicken on top of the rice, nestling it in gently. Place a lid on the pan. Bake in the oven for 35 minutes.
Remove the lid and bake for 10 more minutes to allow the chicken to brown. The rice is done when all the liquid has evaporated.
Sprinkle with cilantro and serve!
Remove, allow to rest for 10 minutes and fluff with a fork.
Garnish with extra lemons and parsley.