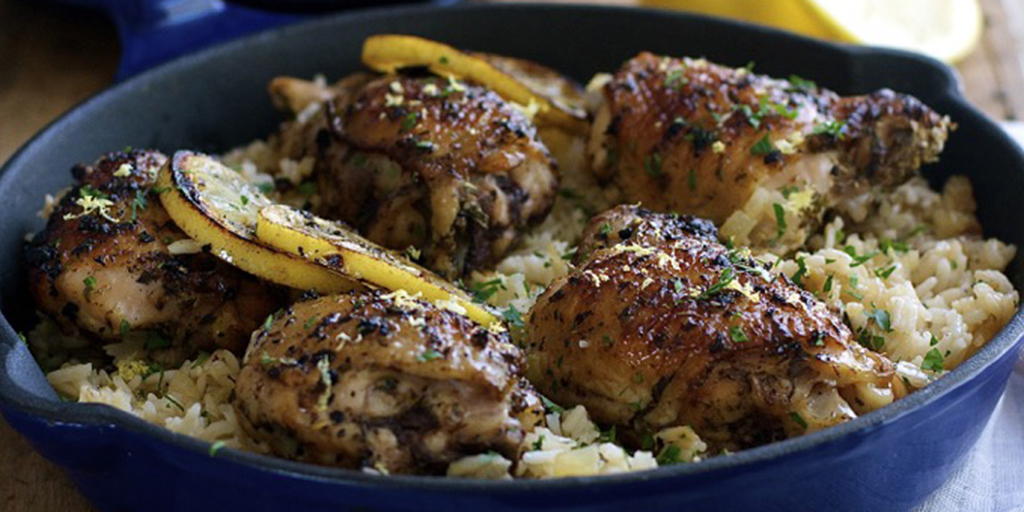 Great Greek flavors meld together cooked in a single skillet recipe.  A very easy dish to make and all to enjoy.  Chicken thighs work best as they stay moist when cooked in the oven. I enjoy pairing this dish with a crisp, citrusy Sauvignon Blanc or a Viognier.
Ingredients
8 chicken thighs, with skin and bones
Marinade
2 lemons, juices and zest of one lemon
6 garlic cloves, minced
1 tablespoon dried oregano
1 teaspoon dried thyme
½ teaspoon cinnamon
½ teaspoon rosemary, chopped
Quinoa
2 tablespoon olive oil
1 medium onion, finely chopped
1 cup quinoa
1 can chicken broth
½ cup water
1 tablespoon dried oregano
Garnish
Zest of the 2nd lemon
Fresh parsley, chopped
Directions
Combine all marinade ingredients and place in sealable plastic bag with chicken thighs. Refrigerate for 20-60 minutes.
Preheat oven to 350°F.
Heat 1 tablespoon olive oil in a large skillet. Remove thighs from bag and reserve marinade.  Place thighs skin side down in skillet and cook until well browned.  Turn thighs over and cook for 1-2 minutes more, then remove to a plate.
Add the last 1 tablespoon olive oil to skillet. Add the onion and sauté until onions are translucent.  Add reserved marinade, stock and water.  Add quinoa, then cover with a lid.  Stir until liquid begins to boil.
Place covered skillet in oven. After 20 minutes, place thighs on top of quinoa and cover.  Cook 15 more minutes.  Then remove cover and cook 10 more minutes.
When finished, remove from over, garnish with parsley and lemon zest. Serve hot.