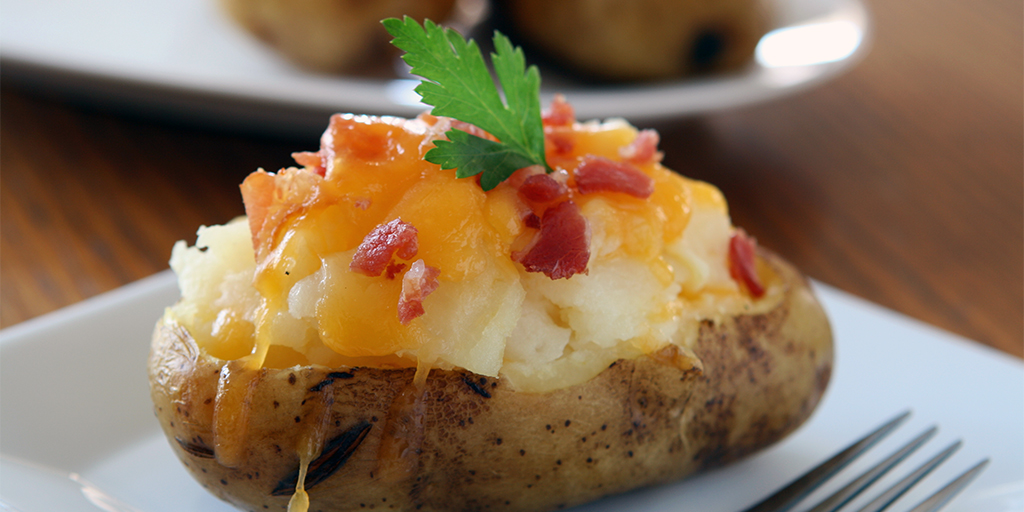 These twice-baked potatoes are so large and filling that you can eat them as an entrée. The reason these are called overstuffed is that you add an extra baked potato to the stuffing mixture.
Ingredients
5

Large Russet Potatoes

(1 pound each)

1

tablespoon

Extra Virgin Olive Oil

1

tablespoon

Kosher Salt,

Divided

1/2

teaspoon

Freshly Ground Pepper,

Divided

4

ounces

bacon

8

ounces

Sharp Cheddar Cheese,

Grated

1

cup

 s

our cream

4

tablespoons

unsalted butter

2

tablespoons

chives,

 c

hopped
Directions
Line a large baking sheet with foil. Preheat the oven to 400°F.

Rub potatoes thoroughly with the olive oil and coat with 1/2 teaspoon salt and a pinch of pepper. Place potatoes baking sheet. Bake about 1 hour until tender. Let the potatoes sit until cool enough to handle.

In a medium skillet, cook bacon over medium-high heat. Stir occasionally the fat is rendered and bacon is crisp. This should take about 5 to 6 minutes. Drain on paper towels.

Take one potato and remove the skin. Place the potato pulp in a large bowl. Cut one quarter from the top of each of the remaining potatoes. Using a large spoon, scoop the pulp into the bowl, leaving a 1/4-inch layer of pulp on the skin. Place the potato shells back on the baking sheet.

Mash the potato pulp until smooth using a potato masher. Add 1 cup of the cheese, butter, bacon, the sour cream, chives, and the remaining salt and pepper. Mash until smooth. Spoon the potato mixture into the potato shells. Top each potato with the remaining cheese and bake until hot and the cheese is melted, about 15 minutes. Serve hot.

Optional: Garnish with a sprig of parsley, more bacon bits or chives.