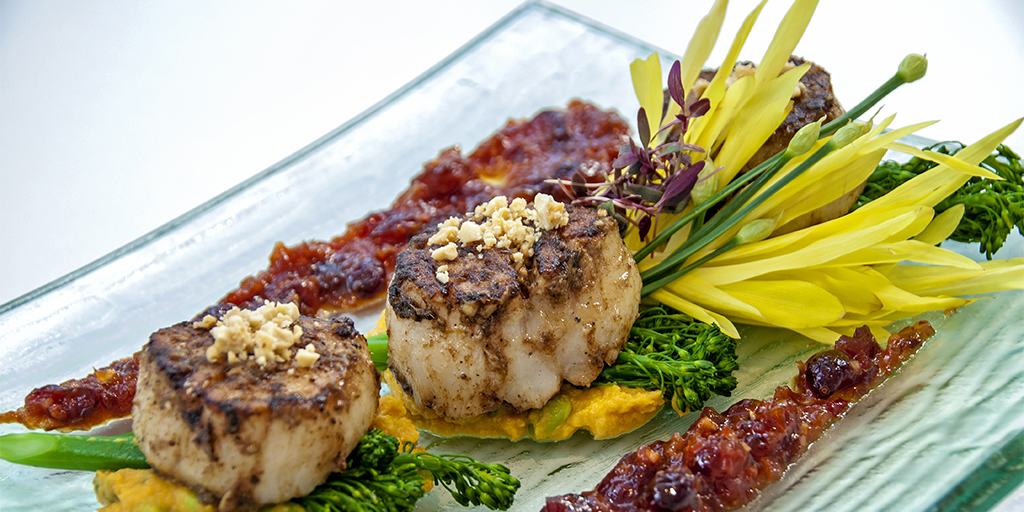 Ingredients
4 medium sized sweet potatoes
2 tablespoons butter
1 chipotle chili, finely chopped
1 teaspoon adobo sauce
2 pounds Bay Scallops
Salt and Pepper
2 tablespoons olive oil, plus more if needed
4 tablespoons white wine
1 cup fresh cranberries
½ cup raisins
2 tablespoons vegetable broth
¾ teaspoon chili powder
2 tablespoons orange juice
¼ teaspoon cumin
1 tablespoon fresh cilantro coarsely chopped, plus additional for garnish
Directions
Preheat oven to 450F degrees.
Prick sweet potatoes with a knife and bake in the center of the oven for 1 hour or until tender.
When potatoes are cool enough to handle, scoop out flesh into a large bowl. Add melted butter, chipotle chili and the adobo sauce. Using an electric mixer, whip potatoes until smooth. Cover and keep warm while preparing scallops.
Heat 2 tablespoons of olive oil in a large skillet over medium-high heat. When hot, add enough scallops to fit in a single layer in the pan. Season to taste with the salt and pepper. Sauté, turning once, until lightly browned and cooked through, 3 to 4 minutes or more-being careful not to overcook. Remove to a platter to keep warm and continue cooking remaining scallops, adding more oil if necessary.
Remove pan from heat and add the 4 tablespoons of white wine to the pan. Return to heat and cook until reduced by half. Add the raisins and fresh cranberries.  Cook just until cranberries pop.
In a medium bowl combine the cranberry mixture, the vegetable broth, chili powder, orange juice, cumin and 1 tablespoon of the cilantro.
To serve arrange the sweet potatoes in the center of a serving plate; place scallops on top of potatoes. Surround with chutney and sprinkle with cilantro.