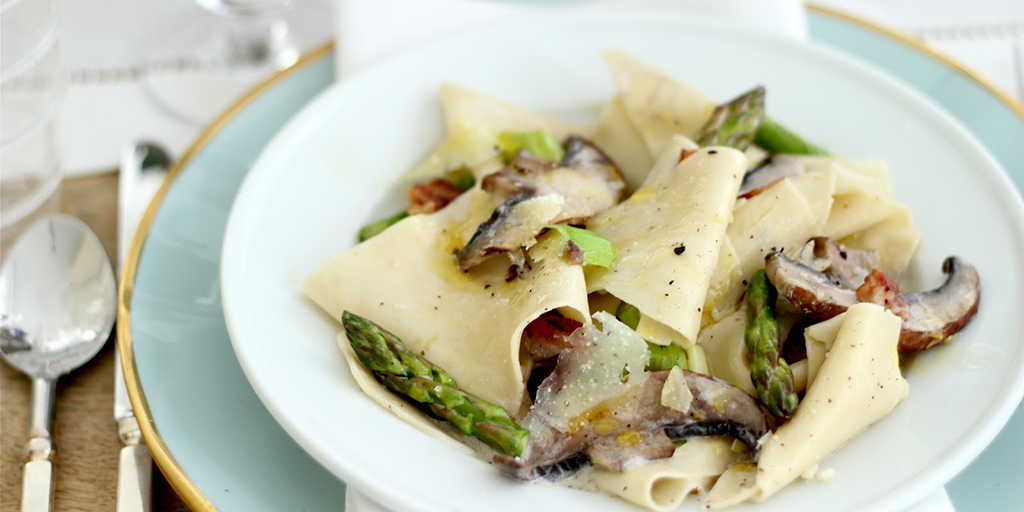 Ingredients
Kosher salt, to taste
½ pound dried pappardelle pasta
½ pound asparagus spears, trimmed and cut diagonally
into 2 pieces
½ pound cremini mushrooms, sliced thin
1 tablespoon extra virgin olive oil
⅓ cup heavy cream
1 tablespoon dry white wine
1 garlic clove, minced
½ teaspoon grated lemon zest
¼ cup thinly sliced green onions
¼ cup grated Parmesan cheese
2 tablespoons chopped fresh flat-leaf parsley
Freshly ground salt and pepper, to taste
Shaved Parmesan cheese for serving
Directions
Cook pasta according to package directions about 2 minutes shy of al dente.  Add the asparagus and boil until the asparagus is tender and the pasta is al dente, about 2 minutes more.
Meanwhile, in a small skillet over medium high heat, add olive oil.  When hot add mushrooms.  Cook for 10 minutes turning frequently until cooked through.
In a small saucepan over medium-high heat, combine the wine, cream, garlic and lemon zest.  Bring to boil. Reduce the heat to simmer until lightly thickened, about 2 minutes.
Drain the pasta and asparagus and put back into the pot.  Add the mushrooms, cream mixture, green onions, cheese and parsley.   Toss to coat the pasta evenly. Season with salt and pepper.
Plate the pasta and add the shaved cheese on top to serve.
Related articles across the web