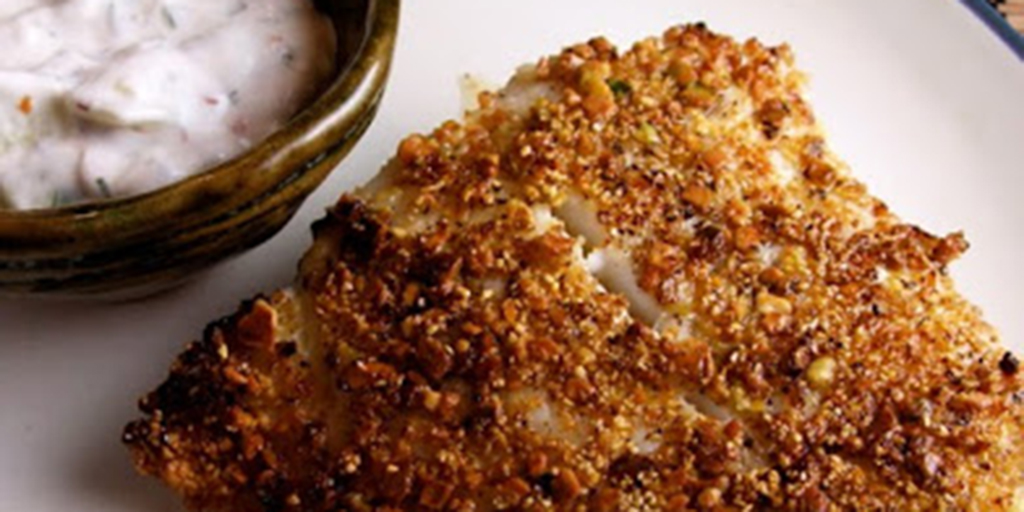 Ingredients
Halibut:
½ cup shelled pistachios, finely chopped
3 tablespoons cornmeal
4 (1 1/4-inch-thick) pieces skinless halibut fillet (6 ounces each)
1 cup whole milk
¾ teaspoon salt
¼ teaspoon black pepper
¼ cup extra-virgin olive oil
Yogurt Sauce:
1 cup Greek yogurt
¾ cup cucumber, peeled, seeded, diced (about ½ the cuc)
2 tablespoons chopped fresh dill
1 tablespoon finely chopped onion
1 tablespoon fresh lemon juice
2 teaspoons dried Turkish Red Maras pepper
½ teaspoon salt, or to taste
Directions
Put fish in a shallow baking dish, pour milk over it, cover and chill for 30 minutes.  Turn over once halfway through.
Meanwhile, in a shallow bowl, mix together pistachios and cornmeal.
Remove fish from milk, letting excess drip off. Transfer to a plate and sprinkle all over with salt and pepper, then dredge completely in cornmeal-pistachio mixture. Transfer to a another plate as they are coated.
Heat oil in a 12-inch heavy skillet over moderately high heat until hot.  Sauté fish about 3-4 minutes until golden and then turn over and cook another 3-4 minutes total.
While the fish is cooking, mix all the ingredients for the Spicy Yogurt Sauce together and set aside.
Serve fish with spicy yogurt on the side.