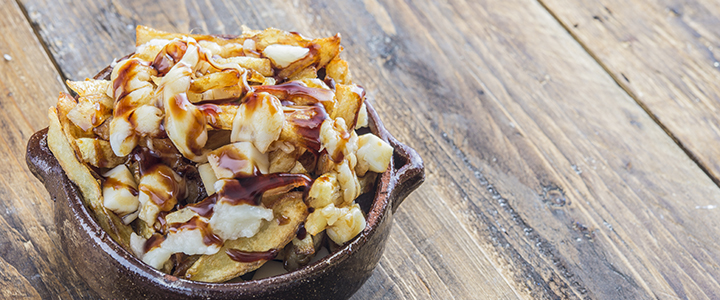 There is one dish that is truly Canadian – poutine. Poutine is often referred to as "Canada's National Dish." It emerged in Quebec in the late 1950s, but its true origin is unknown. Poutine is a plate of French fries cheese curds topped with brown gravy. Numerous variations on the original recipe have become quite popular, leading some to say that poutine has become its own food category, like pizza or sandwiches.
For several decades, poutine was primarily served in Canadian country-side diners or the classic greasy spoon style-diner. Poutine was largely viewed as an unsophisticated backwoods creation of unhealthy junk food. Over the following decades, poutine has grown in popularity and acceptance in all types of restaurants, from fast food to haute cuisine, and spread across Canada and internationally. You will now find it a staple dish served at Canadian hockey arenas.
The classic poutine is made from a basket of hot, crispy fries, topped with cheddar cheese curds, and smothered in a savory brown gravy. Although it's found across Canada, poutine can be discovered all over the United States, too.
As with many popular dishes, creative liberties will be taken on the classic plate of fries, curds, and gravy. Variations on this dish can vary from super simple to more complex. Once you've created the classic poutine a few times, think about replacing the classic fries with sweet potato fries. Swap out the curds for Leipäjuusto, cottage cheese, Halloumi, ricotta cheese, cottage cheese, or a cheesy sauce. You can stick with a super simple, easy beef stock-based gravy or get a little more complex by adding garlic, shallots, ketchup, apple cider vinegar, and/or peppercorns to the gravy. Or get even more creative, such as a potato latke poutine, lobster poutine, pulled pork poutine, Indian butter chicken poutine, Sheppard's pie poutine, or a turkey dinner poutine. It is the ultimate comfort food no matter where or what variation you find.
Ingredients
Gravy
2½ cups beef stock or bone broth
1 cup chicken stock or bone broth
1½ tablespoons cornstarch
¼ cup flour
4 tablespoons unsalted butter
1 tablespoon ketchup
1 tablespoon apple cider vinegar
½ teaspoon Worcestershire sauce
1 teaspoon dried parsley
1 teaspoon granulated beef bouillon
½ teaspoon paprika,
½ teaspoon garlic powder
½ teaspoon onion powder
½ teaspoon salt
½ teaspoon black pepper
¼ teaspoon dried oregano
¼ teaspoon dried thyme
Cheese & Fries
2 cups curd of white cheddar cheese, room temperature
4 pounds potatoes, russet, peeled, washed, and sliced ½-inch thick
Peanut oil for frying
Salt
Directions
Make the Gravy
In a bowl, whisk cornstarch with chicken stock to completely incorporate; set aside.
In a medium saucepan, melt the butter over medium heat.
Stir in flour and cook for 2 minutes while stirring.
Turn heat to low and whisk in beef stock, followed by chicken stock. Add all remaining ingredients, and then bring to a boil. Reduce to a simmer. Simmer until thickened. Remove from heat. Season with salt and pepper to taste. Set aside.
Prepare Fries
Place potatoes in a large bowl of cold water to soak for a minimum of two hours. The crispier the French fries will be, the longer they soak.
Strain the potatoes and rinse with cold water. Use a salad spinner or paper towels to dry the potatoes.
Cook the French Fries
Add enough oil to a Dutch oven or 6-quart frying pan. It should be about 3 inches deep. Or use a deep fryer. Heat oil to 325 degrees F. Then line a large baking pan with a double layer of paper towels for draining the fries once cooked.
Place a small batch of potatoes and fry for 4-6 minutes. They should be lightly golden brown. Transfer fries to paper towels to drain and repeat with remaining fries.
To create crispier French fries, let fries cool for 20 minutes. Then, increase the oil temperature to 425 degrees F. Fry the potatoes in small batches for about 3-4 minutes for each set. Place fries back on paper towels to drain and toss while adding salt.
Assembling the Poutine
Reheat the gravy until it is hot. If it becomes too thick, add some broth.
Divide French fries among serving plates. Add cheese curds. Then ladle hot gravy over everything. Serve hot.