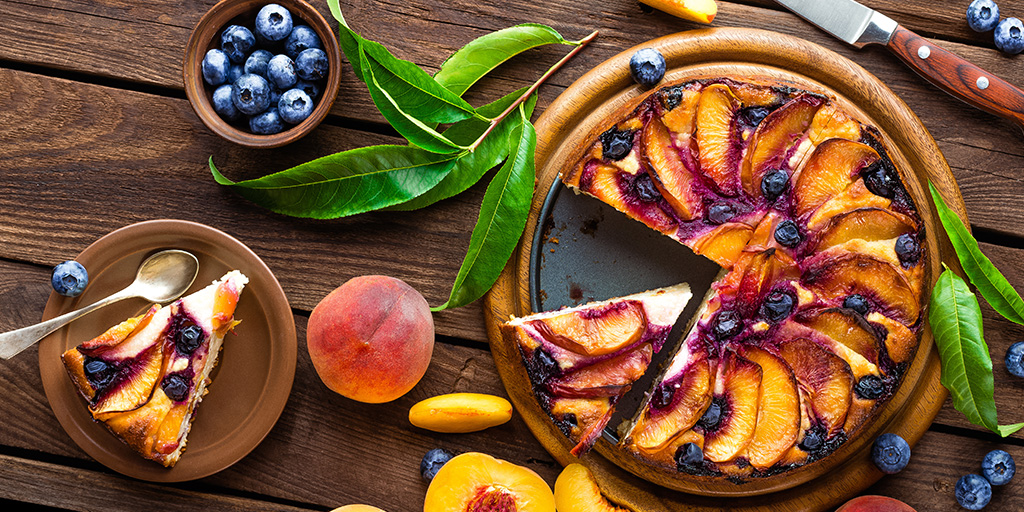 Ingredients
Graham Cracker Crust
7 ounces graham crackers (crushed)
2 ounces sugar
2 ounces butter, melted
Cheesecake Filling
2 pounds cream cheese
½ pound goat cheese
4 eggs
1 cup sugar
1 teaspoon vanilla
Peach Topping
3-4 peaches, sliced
1 tablespoon vegetable oil
Blueberries, optional
2 tablespoons apricot jam, heated
Directions
Preheat oven to 350°F.
For the crust:  Thoroughly combine the graham crackers and melted butter.  Place in a 9″ spring form pan and press into place.  Toast in oven for 5 minutes.  Remove and let cool.
For the cheesecake:  In a mixing bowl, beat all the ingredients together to thoroughly combine.  Fill pan and place on middle.  Reduce heat to 325°F.  Place a pan of water on a rack below the cheesecake.  Bake for 1 hour.  When done remove from oven and cool.
For the topping:  While the cheesecake is baking.  Preheat barbecue.  Cover peaches with oil.  Grill 2-3 minutes a side.  Place on top of cheesecake in circular pattern.  Brush with apricot jam.