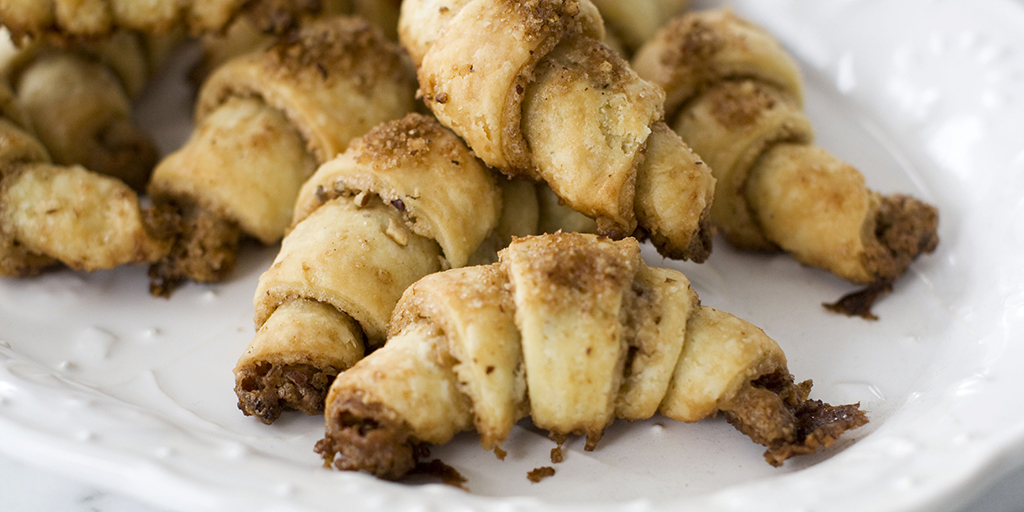 Ingredients
Dough
6 cups

 

all purpose flour

3 teaspoons

 

baking powder

Pinch of

 

salt

1 cup

 

sugar

1/2 pound

 

vegetable shortening

3

 

eggs

2 tablespoons

 

vanilla extract

1 cup

 

orange juice
Filling
1 cup

 

walnuts

1 cup

 

raisins

1/2 cup

 

sugar

2 teaspoons 

ground cinnamon
Directions
Sift together the flour, baking powder and salt.
Cream the sugar and shortening together with an electric mixer until fluffy. Beat the eggs into the sugar and shortening, one at a time, until well incorporated. Mix in the vanilla. Add the dry ingredients and orange juice alternately, mixing after each addition, until the dough is uniform. It should be soft, not stiff. Refrigerate the dough for 4 hours or overnight.
Toast the walnuts in the oven. When they start browning and becoming fragrant, remove them immediately from the pan and place in a food processor. Add the remaining filling ingredients to the processor. Pulse a few times until the nuts and raising are chopped smaller. Stop long before they turn into a paste… you still want the filling to be loose with texture, without any large chunks.
Preheat oven to 400 degrees F. Generously flour a rolling surface. The dough will be very sticky and soft, even after refrigeration.   It will require a lot of flour to keep it from sticking as you roll. Take a dough ball the size of a lemon and coat it with flour. Roll it out with a floured rolling pin as thin as you can to form a rough circle. You want the dough about 1/8″ thick.
Sprinkle 3 tablespoons filling into the center of the dough circle, forming a large circle of filling with a rough 1-inch circle in the center devoid of filling. Use the rolling pin to lightly press the filling into the dough.
Using pizza cutter or sharp knife, cut the circle into eight wedges. Roll up each wedge from the outer edge to the center. Use your fingers to gently shape the rolled-up dough and create a crescent shape. It's okay if some of the filling falls out as you roll. Place the rolled rugelach onto a baking sheet, evenly spaced (the cookies will spread a little, but not much). Repeat the process in batches with the remaining dough till it's gone. The dough is very delicate and somewhat tough to work with,so be patient.  You may need to make a little extra filling if your were overly generous spreading on the dough.
Bake each batch of rugelach for 15-20 minutes, until the edges and bottoms start to turn golden and cookies are baked through. Cool the cookies on a wire rack.
Related articles across the web