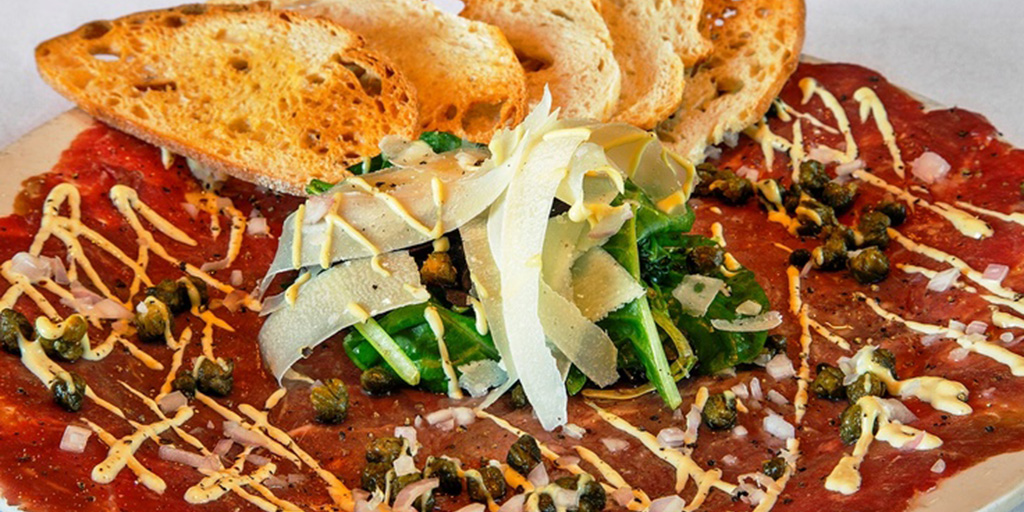 Ingredients
8 ounces filet mignon, skin removed
1 ½ teaspoons chili powder
1 ½ teaspoons hot water
½ jalapeno, seeded and finely diced
2 tablespoons capers, drained
3 tablespoons mayonnaise
1 cup arugula
1 tablespoon Parmesan cheese, freshly grated
1 teaspoon cilantro, finely chopped
1 avocado, diced
2 pieces white bread
Directions
Slice the filet paper thin and place on butcher paper. Add a sheet on top and slightly press.  Place in freezer for about 15 minutes.
Toast the bread, slice off the crusts, and cut into triangles.
In a small bowl, add chili powder and hot water – let sit for 5 minutes. Mix in the jalapeno, and mayonnaise. Spread this sauce across the bottom of a very cold plate.
Neatly arrange beef slices in an overlapping pattern around the plate.
Sprinkle the plate with the arugula, avocado, cheese, cilantro and capers.
Serve with the toast.