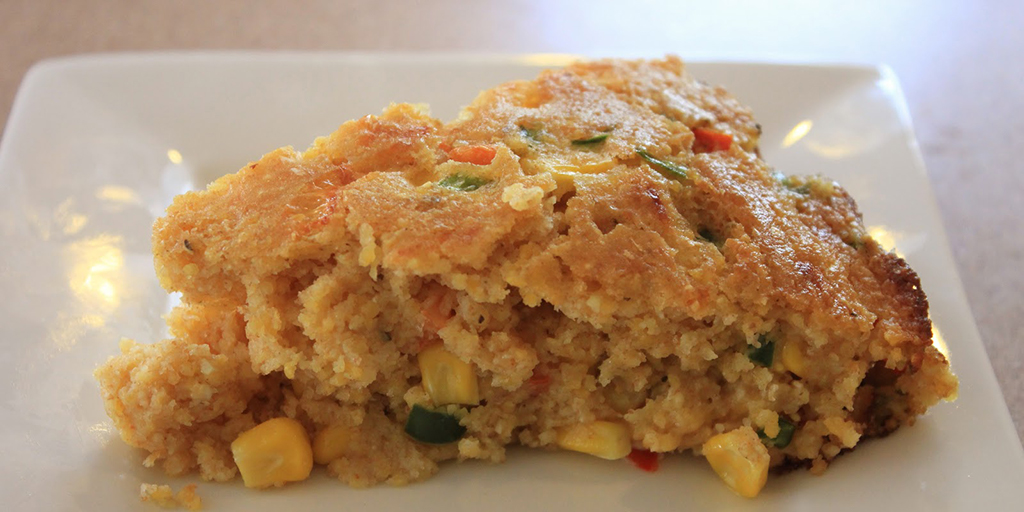 Ingredients
1½ cup cornmeal
4 tablespoons flour
2 tablespoon baking powder
1 teaspoon salt
1 (15.25 ounce) can whole kernel corn, drained
1 (14.75 ounce) can cream style corn
2 eggs
1 stick butter
½ cup maple syrup
½ cup red peppers, diced
½ cup green chilies, diced
¼ cup green onion, chopped (can use regular onion)
½ cup buttermilk
2 cups shredded cheddar cheese
¼ cup sugar
Directions
Preheat oven to 400ºF.  Grease well a medium sized skillet.
Combine cornmeal, flour, baking powder, and salt.
Mix the dry cornmeal mix with whole kernel corn and cream style corn.  Add eggs and butter and continue mixing. Add onion, peppers, chilies, buttermilk and shredded cheese.
Pour batter into skillet.  Sprinkle sugar over the top.
Bake 35 to 40 minutes until the top turns brown.