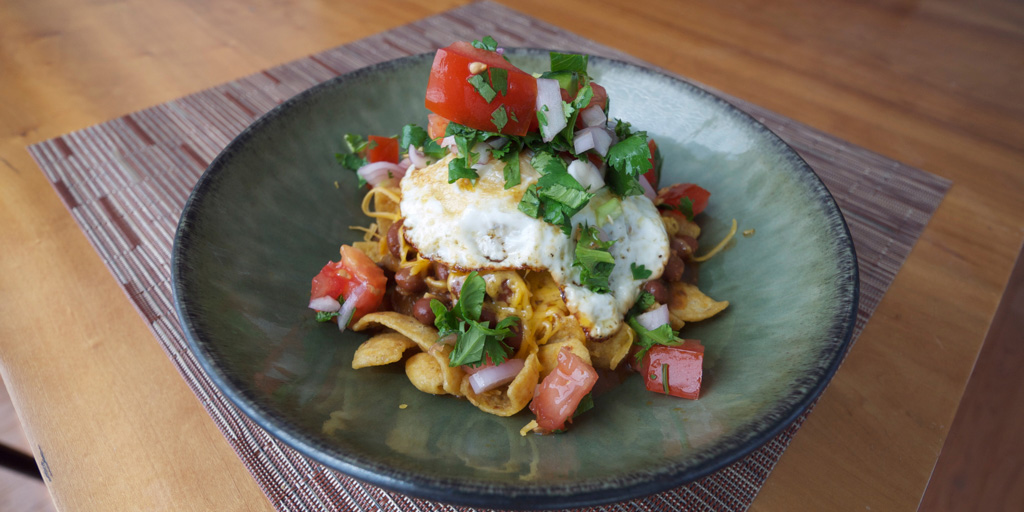 Ingredients
Chili
2 ½ pounds ground beef (90% lean)
3 tablespoons olive oil
1 yellow onion, finely chopped
6 cloves garlic, minced
2 tablespoons ground cumin
2 tablespoons dried oregano
2 tablespoons chili powder
2 tablespoons freshly cracked pepper
1 ¼ tablespoon garlic powder
1 tablespoon smoked paprika
1 ½ teaspoon cayenne pepper
1 teaspoon salt (more or less to taste)
2 bay leaves
3 cups whole canned tomatoes, pureed
Assembly
1 10.5-ounce bag corn chips, preferably Fritos
1 cup jack cheese, shredded
1 cup sharp cheddar cheese, shredded
2 avocados, peeled, pitted and diced
½ red onion, finely diced
1 Jalapeño, finely diced
1 cup sour cream
½ cup cilantro
Directions
Make the chili. In a large saucepan, over high heat, sauté ground beef until browned, about 10 minutes.  Drain beef in a colander.
Return pan to heat with oil and turn down to medium-high heat. Add onion and cook until caramelized, about 15 minutes.  Add garlic, salt, cumin, chili powder, oregano, pepper, garlic powder, paprika, cayenne, and bay leaves.; stirring until fragrant, about 1 minute.  Add reserved beef, tomatoes and 1 ½ cups water.  Bring to boil, then reduce heat to medium-low, siring occasionally until thickened, about 45 minutes.
Divide chips among 6 serving bowls.  Top with some chili; garnish with cheese, sour cream, jalapeños, onion, avocado and cilantro.
Related articles across the web